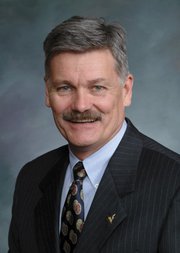 By the numbers
FASTER fee schedule at full implementation in 2011-12*
Vehicle weight (lbs.) Bridge safety fee Road safety fee Total
Less than 2,000 $13 $16 $29
2,000 to 5,000 $18 $23 $41
5,000 to 10,000 $23 $28 $53
10,000 to 16,000 $29 $37 $66
More than 16,000 $32 $39 $71
*The bridge safety fee is phased in throughout three years. Agriculture/farm vehicles pay half the fee increase. Rental car companies are exempt.
Source: Governor's office
Steamboat Springs — Editor's note: This story has been corrected from its original version. Diane Mitsch Bush is chairwoman of the Colorado Department of Transportation's Northwest Transportation Planning Region.
State Sen. Al White, R-Hayden, was the only Republican in either house of the state Legislature to support a transportation bill signed Monday that will generate $250 million a year for transportation projects through increased vehicle registration fees.
Senate Bill 108, dubbed FASTER, takes effect July 1 and will increase the average motorist's annual registration fee by $32 in its first year. As a bridge safety fee is phased in throughout three years, the additional fee tops out at $41 in 2011-12 for most vehicles.
White has gotten some grief from fellow Republicans for his vote.
"I'm not excited about it," former Republican state Sen. Jack Taylor, of Steamboat Springs, said Wednesday. "We certainly have a need for money, but : I think it's going to be tough on a lot of people. When things are tough is not the time to be increasing fees and taxes. It's scary to me."
White said Wednesday that although he agrees the bill is flawed, something must be done to boost transportation funding. White said Colorado Department of Transportation Director Russell George - a former Republican Speaker of the House - told him that if no new money was found, there would have to be drastic reductions in annual road maintenance and snowplowing.
"I didn't think in my district we could afford to stop snowplowing," said White, who noted that he voted against the bill all the way up to its final approval hoping that changes would be made to it. "That was the only solution left on the table. : In the end, I took what was there because there was nothing left."
White represents Senate District 8, which includes all or parts of Garfield, Eagle, Rio Blanco, Moffat, Routt and Jackson counties. Routt County Commissioner Diane Mitsch Bush, a Democrat who is chairwoman of CDOT's Northwest Transportation Planning Region, applauded White's decision Wednesday.
"I was very pleased to see that," Mitsch Bush said. "He had promised us he would (vote for FASTER) because he understands the concerns, and he kept that promise."
Among the provisions of the bill White said he doesn't like is a $2-a-day increase in car-rental fees that he fears will have a negative effect on tourism. The law also allows tolling and charges more for freight trucks that pass through the state.
"Already-struggling families will be hit with this car tax during a recession of historic proportion," House Republican Leader Mike May said in a statement. "Transportation funding is a priority for all of us, but this is simply the wrong solution at the wrong time."
Proponents say the bill will save thousands of jobs and is needed to help repair 125 structurally deficient bridges and 40 percent of roads in the state that are in poor condition. The bill is expected to generate $252 million a year, about half of what Gov. Bill Ritter's Transportation Finance and Implementation Panel said is necessary to maintain existing infrastructure. Ritter has described the bill as a start and hopes to use federal stimulus money to fill other holes in the near term.
"With this bill, we'll be able to begin work on the many unsafe bridges and roads all across this state - work that has been neglected for far too long," Ritter said at a bill-signing ceremony at a Thornton bridge on Monday. "And at a time when the entire country is suffering from a recession, this legislation will let us save jobs, create jobs and help us get our economy moving again."
White said the state can't afford to be reactive to transportation needs because repairs become more expensive the longer they are neglected. White said the second issue is safety and that he would hate to see something like the August 2007 collapse of Minneapolis' Interstate 35 bridge over the Mississippi River, which killed 13 people.
Most of the money created by FASTER - or about $150 million - will be doled out based on CDOT's existing distribution formula that sends 60 percent of funds to the state, 22 percent to counties and 18 percent to municipalities. The bill also creates a State Bridge Enterprise with a goal of investing $100 million a year toward bridge improvements, and a State Transit and Rail Fund that will receive $5 million a year to be used for grants to local governments for transit projects.