Document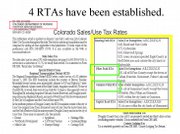 If you go
What: Transportation Solutions Committee open house
When: 4 to 7 p.m. Monday, with a presentation at 6:30 p.m.
Where: Olympian Hall at Howelsen Hill
Call: Meagan Coates, of the Steamboat Springs Chamber Resort Association, at 875-7003 for more information
On the 'Net
Visit this story on www.steamboatpilot.com to download the committee's presentation and a presentation by Colorado Transportation Commissioner George Krawzoff on regional transportation authorities. Additional information, including a link to a survey, can be found here.
By the numbers
At its first open house, the Transportation Solutions Committee asked participants to mark recommendations they liked with colored dots. Below are the four most and least popular recommendations based on the exercise. There were 26 total recommendations.
Most popular:
Dots: Recommendation
17: Support increased funding and frequency of service for Steamboat Springs Transit
17: Provide funding to secure current commercial air service capacity levels
16: Land acquisition for a parking garage
16: Commit to fund and implement traffic solutions in committee's final report
Least popular:
Dots: Recommendation
0: Launch education initiative with way-finding resources and adequate signage
1: Benchmark current capacity and implement a needs analysis
1: Develop a local rideshare program as part of a regional transportation authority
1: Advertise national rideshare Web sites; have employers encourage carpooling
Steamboat Springs — The Transportation Solutions Committee continues to seek feedback on recommendations that ultimately could lead to a parking garage in downtown Steamboat Springs, an extension of the Yampa River Core Trail or a number of other wide-ranging outcomes.
The committee will host its second open house from 4 to 7 p.m. Monday at Olympian Hall. A presentation will be given at 6:30 p.m. The committee, created by the Steamboat Springs Chamber Resort Association, held a similar event Tuesday with a presentation to the Steamboat Springs City Council.
"The open house was productive, but I'm really hoping to get more turnout next Monday," said committee member and Routt County Commissioner Diane Mitsch Bush. "I think the meeting at Olympian Hall will be an opportunity for the public to look at recommendations, comment on them and say what they like. And if anything is missing, let us know. : We really want to know what the public thinks about these recommendations."
At Tuesday's presentation, Councilwoman Cari Hermacinski said many of the group's recommendations are "really good ideas" but requested more specificity about issues such as funding and past efforts.
In terms of funding, the committee and its sub-groups continue to be drawn to the prospect of creating a regional transportation authority. An RTA could fund any number of improvements through means, such as vehicle registration fees, a visitor benefit tax, sales tax, use tax or "fees, tolls and charges for the privilege of traveling on or using any property included in any regional transportation system financed, constructed, operated or maintained by the authority."
Defining the boundaries and responsibilities of an RTA and getting it on the ballot for voter approval is a multi-year task. Chamber Executive Vice President Sandy Evans Hall told council that the committee realizes economic realities present funding challenges for their recommendations but that it hopes to lay some groundwork in the meantime.
"The whole idea is to be shovel-ready when the recession ends," Evans Hall said.
For example, Mike DeGroff said the sub-committee on parking and local transit chose to recommend only acquiring land for a downtown parking garage rather than actually constructing one.
Jim Gill, a member of the sub-committee on U.S. Highway 40 congestion, encouraged council to commit to whatever traffic solutions the committee identifies in its final report.
"It's the worst thing that could happen if all of this results in nothing," Gill said.