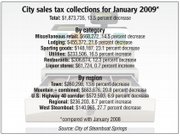 Steamboat Springs — Steamboat Springs officials will chop more out of the city budget after another sales tax loss.
January sales tax collections decreased 13.5 percent compared with January 2008, according to a report released Thursday. The city had budgeted for a 4 percent decrease in 2009 compared with 2008.
"We fully expect it to be down significantly more than that," Revenue Supervisor Kim Weber said. "Therefore, the management team has been working on additional cuts."
The Steamboat Springs City Council will discuss cuts in April, City Council President Loui Antonucci said.
"It's not going to be just one area," Weber said. "It's going to be cut across. They're going to use some of the prioritization they've been using and just cut in a multitude of different departments, but the specifics of that are still being discussed."
Antonucci said he expected an 18 to 20 percent decrease in January. That was based on his observations, he said.
Total sales tax collections for January were $1.87 million, compared with $2.17 million for the same month in 2008. Collections decreased in four categories: miscellaneous retail, lodging, sporting goods and restaurants. They increased in two: utilities and liquor stores.
Weber said the utilities increase could be a result of more buildings coming on line or higher rates.
"Based on the figures they give us, we're unable to distinguish out the difference," she said.
Liquor store sales tax collections ticked up less than 1 percent. Pioneer Spirits owner Jeff Worst offered his perspective but his store opened in October 2007, so he said he didn't have much history to review.
"I think our per-person average is down $7 per person, but we did have a very nice increase in the number of people coming in," he said. "I think it's just because we're new."
Liquor stores reflected only 3 percent of the sales tax collections for January. The largest categories were miscellaneous retail and lodging. The former saw a 14.5 percent decrease compared to January 2008, and the latter saw a 21.6 percent decrease.
General fund sales tax collections decreased 8.2 percent compared with January 2008. Collections for the Steamboat Springs Redevelopment Authority declined 91.7 percent, from $138,538 in January 2008 to $11,541 in January 2009. Many of the businesses in that district were at the base of Mount Werner.
That includes some lodging and also the Ski Time Square businesses that were demolished last summer, Weber said.
"We don't have any sales tax dollars from those," she said. "Either they moved to a different location or shut down completely."
The city has started cutting where it can, City Manager Jon Roberts said. His staff asked departments to try to cut an additional 10 percent from their budgets on top of the forecast 4 percent revenue decrease. The city is trying to accomplish that without reducing services, he said.
"I think for the entire community some of the reductions with lodging and retail certainly indicate the kind of struggle we're all having based on this national and worldwide recession," Roberts said.
When divided by area, sales tax collections increased regionally. They decreased in town, at the mountain, along the U.S. Highway 40 corridor and in western Steamboat. The last category saw the biggest decrease: 27.7 percent, from $194,844 in January 2008 to $140,965 in January 2009.
Weber attributed that decrease partly to the types of businesses in western Steamboat.
"We have tried to encourage the industrial businesses to build west of Steamboat with tax incentives, et cetera, and building is down so significantly I think that's a large percentage of it," she said. "There's a lot of home improvement, furniture/fixture type stores in western Steamboat."
Last month, City Council member Cari Hermacinski said a 1 percent decrease in sales tax revenues in any month in 2009 equates to a necessary spending cut of about $180,000. Roberts said that was a number he'd been told to work with. That means the city would have to cut more than $2.4 million.
- To reach Blythe Terrell, call 871-4234
or e-mail bterrell@steamboatpilot.com