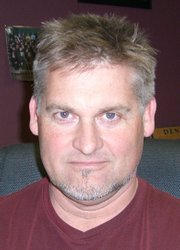 Steamboat Springs — Ken Webbe has had a house in Routt County since the early 1990s. Now, he has a job to go with it. Webbe, a Palisade High School science teacher, has been hired to be the next athletic director at Steamboat Springs High School. He will replace Richard Lee on April 1.
Webbe purchased his cabin in North Routt County years ago, to spend more time in the area. He said he fell in love with Steamboat Springs during his senior year of high school, when he and his family traveled to Steamboat Lake for a fishing trip. Webbe returned to the area many times and eventually bought the cabin.
"What draws me to the area is that people really have a sense of community," he said.
After learning about Lee's resignation, Webbe said he knew the job was right for him.
"I called (Principal) Kevin Taulman within less than 24 hours, because this is kind of my dream job," Webbe said.
Lee is leaving the job after six years to spend more time with his family. He submitted a resignation letter Jan. 1, effective March 31.
Webbe earned his administrative degree during the past year and received his degree in educational leadership in December. Taulman said Webbe was selected from a pool of 25 candidates. He was chosen for his ties to the Steamboat community and his organizing credentials.
"He's very organized and able to handle large projects and large events like the Steamboat Shootout," state meets and other large sporting events, Taulman said.
Webbe has coached track for about 22 years. He has worked for the Palisade school for 14 years, and he stopped coaching the past school year in order to earn his administrator's certificate.
When he arrives at Steamboat Springs High School, Webbe will be faced with helping to create an athletic budget, and he said there a few pet projects he said he has already looked into.
The first is the renovation of the visiting team's box at the high school's stadium. Webbe said an area from the 5-yard line to the end zone isn't visible from the box.
The second is an ongoing appreciation campaign for sports officials, including gift baskets to show appreciation for their work.
"I really want to work on taking care of our officials and communicating how important they are to us and to our kids," he said. Webbe's contract will go before the Steamboat Springs School Board for approval Monday.