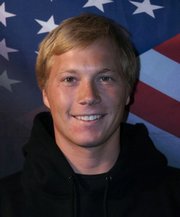 Aerials results
2009 FIS Freestyle Ski World Championships
Aerials
Men
Ryan St. Onge, Winter Park, CO, 254.66

Steve Omischl, Canada, 252.07

Warren Shouldice, Canada, 240.14

Renato Ulrich, Switzerland, 232.29

Oleksandr Abramenko, Ukraine, 2228.56
Women
Nina Li, China, 203.21

Mengtao Xu, China, 197.04

Jacqui Cooper, Australia, 194.32

Emily Cook, Belmont, MA, 175.72

Jana Lindsey, Black Hawk, SD, 168.66
U.S. Ski Team freestyle skier Ryan St. Onge, a former Steamboat Springs Winter Sports Club member, put down two of his best jumps of the season Wednesday in Inawashiro, Japan, to win gold in aerials at the 2009 FIS Freestyle Ski World Championships.
"I came out today, and I did two nice jumps. One of them was one of the nicest ones I have ever done in my life. Right there, I am very happy and incredibly excited for today," St. Onge said Wednesday. "It's nice to know that things are going well, and it's nice to be able to enjoy it - not just the winning, but to be able to do the jumps that I want to do, compete the way I want to compete and to be able to savor that."
St. Onge threw a full, double full, full, followed by a double full, full, full to win the gold.
"All I think about is his last jump and how perfect it was. It was just amazing," U.S. Ski Team Aerials Head Coach Matt Christensen said. "He's been more focused on doing perfect jumps rather than looking at the results. That's what we as a team have been focused on. The results come when those results happen."
According to St. Onge, who still is waiting for the excitement to fully sink in, he knew if he was consistent, things would go his way.
"This is huge. I don't think it has quite hit me yet, but I had a lot of fun today," St. Onge said. "The last two days were some of my favorite days of jumping, and I knew that if I landed two jumps, things would go OK."
St. Onge's win marks the first men's aerials gold for a U.S. athlete since Eric Bergoust won in 1999. As a young athlete who looked up to Bergoust, St. Onge is happy to be able to share an accomplishment with his hero.
"Eric Bergoust is my idol, and he has been ever since I've been jumping," St. Onge said. "Any time I can reach a mile marker in any way that he has, it's an extreme flattery to me, and I just hope that there are more like this."
The win caps a strong season for St. Onge, who won the Nature Valley Freestyle Challenge at Deer Valley Resort in Utah on Jan. 30 for his sixth career World Cup victory.
Wednesday's gold also caps a recent strong showing by American - and Steamboat Springs - athletes in world championship competition.
The American team collected three gold medals and a bronze during four events at the 2009 Nordic FIS World Championships in Liberec, Czech Republic. Steamboat's Todd Lodwick brought home two of those golds, while the third gold and the bronze went to Bill Demong. For Christensen, Wednesday's results are an indicator that his team is on the right track.
"It's just awesome. Our team is finally starting to peak at the big events, and St. Onge just showed that. He followed the game plan and did it right," Christensen said.
The 2009 FIS Freestyle Ski World Championships continue today with men's and women's halfpipe.