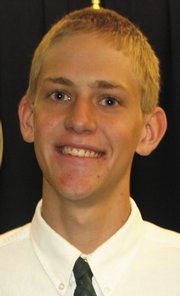 About the Boettcher
Started in 1952, the Boettcher Scholarship program rewards outstanding high school seniors who demonstrate the potential to make significant contributions to Colorado. The Foundation has awarded almost 2,200 scholarships since its inception and now provides about $3 million in scholarship support each year, according to a news release.
Steamboat Springs — For the first time in Steamboat Springs High School history, two seniors have been offered a Boettcher Scholarship in one year.
Seniors Charlie Stoddard and Jamie Gay were among the 40 Colorado students offered a full-ride scholarship to any Colorado school. The scholarship includes full tuition to any public or private college or university, fees, a book allowance and an annual stipend for living expenses.
Gay follows in the family tradition by winning the scholarship. Her mother, high school science teacher Cindy Gay, also won the award. Cindy Gay said she has stayed in touch with her Boettcher Scholar friends from college.
"Once you're a Boettcher Scholar, you're in the Boettcher family for life," Cindy Gay said.
Jamie Gay said she had always kept her mother's award in the back of her mind, but it wasn't something that shaped her high school choices.
"I always thought it would be really cool to get the Boettcher, but I never thought about it more than that," she said.
The award is a competitive, merit-based scholarship based on grades, activities, test scores and a final interview with the top 72 candidates.
Jamie Gay now is faced with a choice between the University of Colorado at Boulder and the University of Denver. She will visit each of the schools again this week before she makes her final decision.
She plans to study molecular biology, something she said she always has been interested in.
"I've always been a bio nerd. It must be a genetic trait," she said.
Stoddard, who graduated from the high school mid-year to begin college, now is studying at the University of Colorado. He has not yet accepted the Boettcher Scholarship as he decides where he would like to attend school.
His mother, Tracy Stoddard, said he has been accepted at Stanford University and is in the running for a full scholarship at another school.
Boettcher Scholarships are valid only for Colorado schools. If Stoddard decides to attend school out of state, the scholarship will go to another student on the list.
Tracy Stoddard said the final decision is up to her son. He has studied with professors at the University of Colorado during summer internships and has taken correspondence classes with Stanford throughout high school.
"Whatever makes him happy," Tracy Stoddard said.