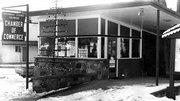 Tom Ross
Tom Ross' column appears in Steamboat Today. Contact him at 970-871-4205 or tross@SteamboatToday.com.
Find more columns by Tom here.
Steamboat Springs — Who would have thought the modest little building tucked into the corner between the library and Little Toots Park carries the pedigree of a famous architect?
If you don't walk to the library, chances are you zoom by in your fuel-efficient vehicle without even noticing the little green box that perches above Soda Creek. You probably even fail to notice the trees growing through the roof.
Home to the Yampa Valley Land Trust, the structure is referred to by many as the butterfly building because of its unusual roofline. City of Steamboat Springs Historic Preservation Coordinator Laureen Schaffer announced this week that the structure, officially known as the Chamber of Commerce Building, has been named to the Colorado State Register of Historic Places. She is intent on seeing it named to the National Register of Historic Places.
"There have been virtually no exterior alterations to the original Chamber of Commerce Building, and the 1960 photograph from the building's grand opening reveals that it looks much the same today as when designed and constructed," Schaffer wrote.
Schaffer's diligence has yielded the intriguing story behind a modest downtown building. Perhaps it's time we began calling it the Eugene D. Sternberg Building.
Sternberg, born in Czechoslovakia in 1915, is the Cambridge University-trained architect who improbably came to Steamboat Springs in the late 1950s to design an economical new home for the Chamber.
It isn't exactly the career path one would project for an architect who began with the firm of Sir Abercrombie, helping to rebuild many of the London homes destroyed during World War II bombing raids.
However, Sternberg fell in love with an American woman in London, moved on to teach at Cornell University, was unhappy there and ultimately ended up at Denver University, according to Schaffer's application to the National Register.
Unlike Cornell, DU allowed Sternberg to have a private practice, and his list of public buildings included Arapahoe Community College in Englewood, Heritage High School and a large medical building at Denver General Hospital.
Sternberg also was interested in designing socially conscious modern housing that was economical to build. Schaffer describes the Chamber building as an unusual application of the Usonian housing style to a commercial building. One of the most obvious hallmarks of the style is the inverted gabled roof with overhanging eaves that suggest to some the wings of a butterfly.
The building also was designed to allow cottonwood trunks to grow through a hole in the overhang.
Schaffer's research revealed that the Steamboat Springs town board hired Sternberg in 1957 to serve as planning consultant and architect to its brand new Planning Commission. He surveyed the edge of town to evaluate new locations for subdivisions and a junior college. He worked closely with service clubs on park projects. And in 1959, the town directed Sternberg to develop plans for a permanent home for the Chamber of Commerce.
Schaffer quotes an article in the March 26, 1959, Steamboat Pilot describing how Planning Commission Chairman George Fick stood up at a banquet and predicted that with volunteer labor and by purchasing materials at cost, the building could be built for $1,500 (no, that's not a typo).
Turns out Fick was off by a grand. The final budget was $2,500.
If you've never noticed Sternberg's work, and if the temperature soars into the 50s as predicted today, you might park your car at Little Toots Park on 12th Street and walk over to witness the humble landmark that was built in 1960 with $2,500 and a measure of community spirit.
To reach Tom Ross, call 871-4205 or e-mail tross@steamboatpilot.com