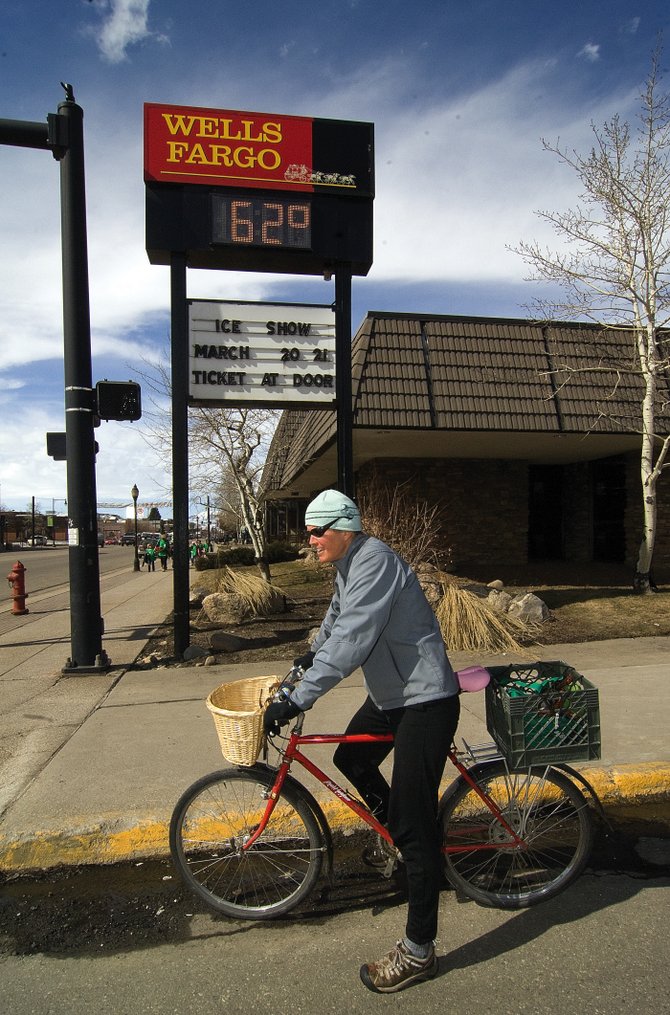 Mild weather expected throughout week
Weekend storm could bring winter back to the Yampa Valley
While the beginning of March 2008 was a time for celebrating the third straight month of at least 100 inches of snowfall on the slopes of Mount Werner, the start of March this year has brought unseasonable amounts of sun and warmth.
According to the National Weather Service in Grand Junction, a high of 53 degrees is predicted for today. High temperature forecasts for the rest of the week are in the 40s, with nighttime lows of about 20 to 25 degrees. Temperatures reached the mid-50s Tuesday.
There are slight chances of rain or snow this week; the most significant accumulations are expected on mountain passes Saturday as a Pacific storm system moves across Utah and Colorado, according to the National Weather Service. Forecaster Jim Daniels said there is an even better chance of snow early next week when a cold front is expected to move through the region.
"In fact, I think we will see a shift back to weather more normal for this part of the year beginning this weekend and into next week," Daniels said.
Daniels said weather alternating between cool and warm should be expected throughout the remainder of the transition from winter to spring.
Scott Toepfer, an avalanche forecaster with the Colorado Avalanche Information Center, wrote in his daily report Tuesday that avalanche danger remains considerable in the Steamboat and Flat Tops zone on solar aspects near and below treeline.
"Weakening of the snowpack in response to warming does not always produce avalanches but does demand caution," Toepfer warned backcountry travelers in his report. "The strength of wet snow can change dramatically in a short period of time, so pay attention to how the snowpack is changing as the day progresses."
The Yampa River in downtown Steamboat was flowing at 137 cubic feet per second at 11:15 a.m. Tuesday. That is more than its median and mean flows for March 3 - of 114 cfs and 123 cfs, respectively - based on 99 years of record.
Despite the warmth on the Yampa Valley floor, snowpacks throughout the Yampa and White river basins remain near their historical averages. The snow-water equivalent at 9,400 feet on Rabbit Ears Pass was 24.9 inches Tuesday, or 113 percent of average, according to measurements by the Natural Resources Conservation Service. The historical average at that site for March 3 is 22 inches. On that date last year, the snowpack was 26.3 inches.
At 10,500 feet on Buffalo Pass, the snow-water equivalent is 37.4 inches, 2 percent less than the historical average of 38.1 inches.