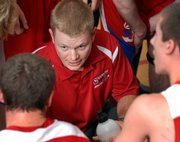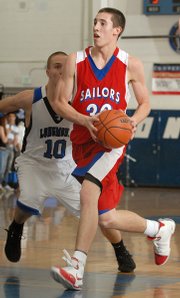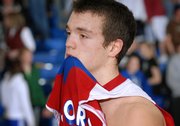 Game statistics
Longmont 48, Steamboat Springs 40
Steamboat Springs 6 10 13 11 - 40
Longmont 17 16 4 11 - 48
Steamboat (17-7) -
Nelson Brassell 1 5-7 7, Isiah Forsyth 1 0-0 2, Alex Wood 2 1-2 5, Jack Spady 5 0-0 12, Charles Wood 6 0-0 14, Austin Hinder 0 0-0 0. Totals 15 6-9 40.
Longmont (19-5) -
Jay Knaus 0 0-0 0, Matt Martien 2 0-0 6, Tim Donaldson 0 0-0 0, Cade Kloster 3 3-3 12, Tom Pane 1 0-0 2, Ryan Chopp 1 0-0 2, Syd Donaldson 4 3-4 13, Tim McIntire 1 0-0 2, David Edden 4 3-4 11. Totals 16 9-11 48.
3-pointers - SS 4 (Spady, C. Wood), L 7 (Kloster 3, Martien 2, S. Donaldson 2).
Longmont — For Nelson Brassell, it's too late for moral victories.
Nearly erasing a 17-point second-half deficit in the state boys basketball tournament is nice - but nearly isn't nearly good enough for the Steamboat Springs senior.
The sixth-seeded Sailors' comeback from a dreadful first half came up just short Saturday night in a 48-40 loss to No. 3 Longmont in the 4A second-round matchup. Brassell and his senior teammates were forced to bid a premature farewell.
"I want a win," Brassell said. "If it's not a win - I mean, everyone stepped up and we got back in the game - but we should have never been down like that.
"We can beat that team. It's just frustrating."
The Trojans (19-5) came out scorching from beyond the arc against the Sailors' 2-3 zone defense - which held Skyline to a 1-for-14 first half from 3-point range in Wednesday's first-round win.
But Longmont, not known as a great outside shooting team, was 7-for-11 in the first half Saturday. The Sailors, meanwhile, came out cold in the first two quarters, and Longmont led, 33-16, at halftime.
"On our scouting report, they only had two kids who could shoot - but nobody could miss in the first half," Brassell said. "They just got hot, and there was nothing we could do about it."
But Steamboat Springs (17-7) found a remedy in the second half, switching to a 1-2-2 zone, and it rattled Longmont. The Trojans didn't make a 3-pointer the rest of the way, and the Sailors finally found their stroke. Connor Wood (14 points) and Jack Spady (12) led the charge, combining for 16 second-half points.
"We started playing defense, and they started missing shots, so we were able to build off that," Brassell said. "We didn't play very good defense in the first half - not Sailor basketball."
Steamboat kept the pressure on in the fourth quarter, holding Longmont to just one field goal, and the Sailors pulled within three points with 36.4 seconds to go. But the Trojans hit their free throws, and Steamboat never got any closer.
"It's a hard loss, but hopefully our kids take something from it and we'll be that much better next year," Steamboat Springs coach Luke DeWolfe said.
But for Brassell, and fellow seniors Alex Wood, Graham Geppert and Jacob Brenner, there won't be a next year.
"It's tough to see them go," DeWolfe said. "But they carried us and did a great job all year."
Still, DeWolfe feels he has the pieces in place to make an even deeper postseason run a year from now.
"I don't think a lot of teams gave us much credit to begin with, only returning one starter from last year," DeWolfe said. "So for us, it was a big season just in terms of young guys stepping up."