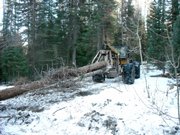 By the numbers
Acres affected by mountain pine beetle in Routt and surrounding counties
County 2008 1996 to 2008
Eagle 75,680 159,860
Garfield 5,210 7,160
Grand 208,210 552,570
Jackson 234,620 353,800
Moffat 9,700 11,100
Rio Blanco 18,000 25,130
Routt 245,290 310,520
On the 'Net
Additional mountain pine beetle information can be found here.
To read the Steamboat Pilot & Today's award-winning, five-part series about the beetle epidemic, visit The Last Stand.
Steamboat Springs — The economy is tanking, and the bugs are peaking. It's a toxic recipe for forestry, and one of the most important regional sawmills is the latest victim of the poison.
Big Horn Lumber in Laramie, Wyo., accepted its final load of logs last week, citing a downturn in housing starts and the impacts of the mountain pine beetle epidemic as reasons for its closure. Once the mill processes the wood it has on hand, 67 employees will lose their jobs. Ripple effects of the closure, however, will take their toll on many more people in the industry, including several in Routt County.
The closure will frustrate efforts to thin forests devastated by the mountain pine beetle epidemic, which has left a worrying glut of dead trees throughout the Rocky Mountain West that create hazards as they fall and pose a threat as fuel for wildfires.
"It's going to have a big effect on us," said Rusty Baker, of Steamboat Springs-based loggers and excavators Baker Resources. "There's going to be a lot of dead trees left standing until there's somewhere to take them."
John Twitchell, a Steamboat-based forester with the Colorado State Forest Service, said 20 contractors showed up to bid on a contract to remove hazardous trees from North Routt County campgrounds.
"That was a good indication of just how tough times are," Twitchell said. "All of a sudden if you're a contractor : you went from some market to no market. No one's buying anything right now in terms of timber. : What that does is it makes treatment really, really tough.
"We're going to have some industry survive this, but what I'm worried about is reduced capacity. It's not like we don't need these guys. We do."
The price of lumber futures on the Chicago Mercantile Exchange has fallen about 50 percent in less than a year. Property owners hoping to have trees removed to protect their homes and reduce fire risks are likely to see tree removal costs skyrocket as loggers like Baker are increasingly unable to balance the cost of cutting with the proceeds from selling logs to a mill.
"The homeowners are going to have to carry that cost," said Baker, who said logs will sit in piles until somebody wants to take them or they are burned. "With nowhere to get rid of the wood, we're going to have to raise those costs."
Costs also will increase for the state and federal forest services.
"It's really disappointing," Clint Kyhl, director of a regional U.S. Forest Service bark beetle incident management team, said of Big Horn's closing. "Unfortunately, we have a situation where we need them now more than ever with the bark beetle. : It's going to cost us more to treat an acre if we can't sell to a sawmill."
Perception problem
Steve Flanderka, a timber purchaser with Big Horn Lumber, said the increased amount of beetle-killed timber the mill has received recently has put downward pressure on the price it can sell its lumber for. When a beetle enters a tree, it transfers a fungus from its mouth that stains the wood with a bluish tint.
"That color defect degrades the timber quality," Flanderka said. "There's no structural defects in the wood. A lot of people, including myself, think it actually looks better. : A lot of it you can blame on the big-box lumber yards. They refuse to take the blue-stain lumber. We've got millions of acres of blue-stain timber, and they don't want to take it."
Twitchell said local efforts to educate the public about blue-stain wood have been successful at mitigating the stigma associated with it, but that means little when compared with the vast majority of Americans purchasing wood at Home Depot and Lowe's stores nationwide.
Mark Daly, a lumberman and trader with Teton West Lumber in Cheyenne, Wyo., said marketing efforts have produced only a niche market.
"It has been a struggle to market," Daly said. "You just can't get to the black side of the ink. : If somebody wants to saw it and go broke, they can."
Furthermore, Teton West Lumber owner Dan Colgan said that there has always been enough blue-stain in the lumber market to satisfy the small level of demand for it.
"There's always been a component of blue-stain available in the market," Colgan said. "While we have a whole bunch of it here, it's not unique to the : marketplace."
Teton West Lumber marketed Big Horn's lumber for 35 years. The company also does marketing for area mills such as More Lumber in Milner, but such operations can't match the more than three semitrailer loads produced daily by a mill like Big Horn.
"These mills are making low-grade lumber and will probably continue to run for a while," said Colgan, who said that the amount of trees used by the small mills will barely put a dent in the number of dead trees throughout Colorado's and Wyoming's forests. "Relative to the size of the problem, it won't be 2 percent."
Frustration and hope
Colgan, a former Steamboat ski patroller, is among those who believe that the mountain pine beetle epidemic currently destroying forests and his industry could have been lessened or even prevented if more trees had been harvested over the years.
"I hope to hell we learn something from this experience and do not allow this to happen again," Colgan said. "Had we used our forest, we'd have one. : It's not going to be real fun for the next decade. : We used to have mills everywhere here. We used to have eight times more mills than we have now and we can't even sustain what we have now with the forest the way it is."
Many forest experts believe one of the contributing factors to the mountain pine beetle epidemic is the sheer number of trees in the forest. Many have said that advances in fire suppression should have been accompanied by increases in commercial logging to mimic what a fire does for fire-dependent species such as lodgepole pine trees. Instead, logging operations fell off dramatically, especially in the 1990s due to public intolerance.
With the economy and blue-stain perceptions working against it, the Forest Service has so far failed in its efforts to revamp the industry. The volume of timber sold off of Colorado's national forests fell to 104 million board feet in fiscal year 2008, down from 125 million board feet in fiscal year 2007.
"My fear is that once our Government reaches an agreement for the solution (subsidizing our loggers), there will be no infrastructure left to handle the beetle kill epidemic," Daly wrote in a letter to Wyoming Governor David Freudenthal.
Kyhl said he is hopeful that the recently passed federal stimulus bill will at least help the Forest Service with planned projects to reduce fuels and remove trees from areas near roads, trails and campgrounds. Kyhl said it is a matter of public health and safety and that the projects will create jobs.
"We submitted a number of projects to help us with the bark beetle," he said. "We know they're high priority, but we don't know yet whether they'll be selected."
To reach Brandon Gee, call 871-4210 or e-mail bgee@steamboatpilot.com