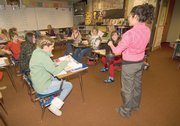 Steamboat Springs — Class size is a recurring debate topic in Steamboat Springs, but despite many discussions, there have been few concrete numbers or recommendations.
The current policy calls for a teacher-to-student ratio of 19-to-1 in the Steamboat Springs School District's elementary schools and 18-to-1 in its secondary schools. Superintendent Shalee Cunningham said that goal is being met. Meanwhile, a petition signed by 134 Steamboat Springs parents states those parents "expect small class size to remain a top priority in the district" and suggests a cap on classes, but the petition does not give a goal the district should work toward.
Steamboat Springs School Board member John DeVincentis, who frequently brings up the topic of class size, said at a recent board study session that class sizes should be low, but he does not know what size the district should aim for.
During the School Board meeting Monday, he and fellow board member Lisa Brown said they had found contradictory educational studies. DeVincentis, referring to studies he said he e-mailed to board members, said class size was a major indicator of student achievement. Brown said highly qualified teachers are more important.
According to a study by the U.S. Department of Education, the debate is not yet solved.
"The issue of class size has received a great deal of attention in U.S. education policy, since it is commonly looked upon as a factor influencing the interaction between teachers and students. While smaller classes are generally valued because they may allow students to receive more individual attention from their teachers, evidence on the effects of variation in class size upon student performance is mixed," states the "Comparative Indicators of Education in the United States and Other G-8 Countries in 2006" study from late 2007.
The study goes on to state that in 2004, only two of the G-8 countries studied had a class size of less than 20 students in primary grades. Those were the Russian Federation, with an average class of 16 students, and Italy, with 18.
The United States' average was near the middle, with 23 students, while Japan had the largest, with 29 students per class.
Closer to Steamboat, the Cherry Creek School District, with 50,000 students, has a "soft cap" for class sizes of 24 in the primary grades and 26 for secondary. The average primary class has 23 students, while the middle and high school classes range from 25 to 30.
East Grand School District, with 1,464 students, opted not to make a policy because the board did not want to lose flexibility in class sizes. They now have an average size of 17, with a maximum of 20. The goal for middle school and high school is 18 students per class, with a maximum of 20.
Seeking input
After a 3-2 vote Monday, the Steamboat Springs School Board kept the policy an administrative decision, but Cunningham said she will not be making the choices alone.
"I know there was a lot of discussion about the superintendent being in charge, but I don't operate that way. We definitely have a committee, and we'll absolutely be working with teachers," she said.
Cunningham said she will work with the school district's administrative team to clarify the policy and ensure that parents do not feel deceived.
"I think it's clear to me that parents feel deceived when they read the policy and then their students come home with 23 students in their class," she said.
The current policy calls for an average across the district and does not set a cap. The petition from parents requested a cap be put in place, but after the meeting, parent leader Melissa VanArsdale said a cap was not the primary focus of the parents' concern, as long as class sizes were kept low.
Steamboat Springs Middle School Principal Tim Bishop and several parents spoke against the prospect of a hard cap on class sizes, and board members did not show support for the plan.
Cunningham said she agrees that a cap can lead to unintended consequences.
"A cap is restrictive, for just the reason a couple parents commented on during the board meeting," she said. "I'm not sure we need a cap. I think we need a clearly defined class policy. ... (Caps) actually become punitive."