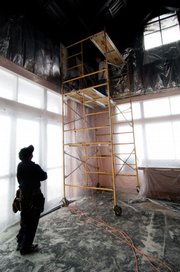 Steamboat Springs finally will get some Indian flavor this month.
The new Bombay Grill, which will be the city's only Indian restaurant, has scheduled its grand opening for March 20. The restaurant will start by offering traditional Indian cuisine and will have a large bar, Manager Lisa Gill said. It eventually will add contemporary dishes using Indian spices.
"We're looking forward to bringing Indian food to Steamboat because I know there's nothing like it right now," Gill said.
Her father, Harjinder Gill, has opened about 40 Indian restaurants in Colorado. The Bombay Grill in Wildhorse Marketplace originally was scheduled to open last summer, but Lisa Gill said the project stalled because of other plans.
Harjinder Gill signed leases to build restaurants in Thornton, Broomfield, Winter Park and Steamboat at the same time, she said.
"The one in Steamboat got delayed because he wanted to make sure he invested enough time into it," Lisa Gill said.
But the remaining work is minor, she said. Bombay Grill is adding furniture, and Gill is working on creating the menu and pricing. The bar will seat 40 people, and the dining room will seat 60, she said. The restaurant will have patio seating during warmer months.
"It's a little different than a traditional restaurant because there's a little more emphasis on the bar," Lisa Gill said.
The City of Steamboat Springs Liquor License Authority approved the Bombay Grill's liquor license Feb. 10.
"It wasn't controversial," Deputy City Manager Wendy DuBord said.
The Steamboat restaurant will be Gill's first management gig. Her parents will own the grill. Gill's extended family is involved in restaurants, and the 27-year-old grew up working in them, she said. She's washed dishes, bused tables and served.
Gill also plans to be a part-time park ranger. She's looking forward to the challenge of handling the restaurant and said she'd be working in parks and managing Bombay Grill for at least the next year. She plans to move to Steamboat from Boulder this week.
"I thought this would be a cool experience," Gill said. "Growing up in the restaurant business, this was something I was always trained to do."
She's also excited about bringing Indian food to Steamboat for people who haven't tried it. For the restaurant's grand opening March 20, Gill is planning a 21-and-older, RSVP-only event featuring food tastings and semi-formal attire.
"Once things start rolling, we'll do things like maybe have a belly dancer, have different events, maybe do cooking classes to introduce the food to more people," Gill said.
This isn't the best economy to start a new venture, she acknowledged.
"I feel like in Steamboat in particular, it's something that's so unique that I feel like that restaurant will be able to become established there and stay open," Gill said. "It is kind of a scary thing. While we're apprehensive, at the same time, we're confident that it'll work."
The Bombay Grill is near Ben & Jerry's Ice Cream in Wildhorse Marketplace.
Gill said she was looking forward to joining the family business and sharing the Indian food her father has spread across the state.
"It's something that he and a lot of people in my family definitely have a passion for," Lisa Gill said.
- To reach Blythe Terrell, call 871-4234
or e-mail bterrell@steamboatpilot.com