Fireworks safety tips
- It is illegal for anyone younger than 16 to purchase fireworks.
- Fireworks permissible in Routt County include sparklers, fountains and ground spinners.
- Fireworks that do not explode or leave the ground are legal in Colorado. But even legal fireworks burn at high temperatures and can ignite clothing easily; always keep children away from fireworks.
- Firecrackers, rockets (including bottle rockets), Roman candles and mortars are not legal anywhere in Colorado.
- Never relight fireworks that have gone out, they still could be live and go off unexpectedly.
- Establish a safe viewing area away from houses and shrubbery; never light fireworks inside.
- Fireworks of any kind are illegal on U.S. Forest Service and Bureau of Land Management lands.
- For more information or assistance in preparing for a safe Fourth of July celebration, stop by the Steamboat Springs Fire Rescue Mountain Offices at 2600 Pine Grove Road between 8 a.m. and 4 p.m. Monday through Friday, or call 879-0700 or 879-7170.
- Source: Steamboat Springs Fire Rescue
For more
The U.S. Forest Service is reminding people to leave their fireworks at home if they are visiting the Routt National Forest this Fourth of July holiday. Fireworks never are allowed on national forests.
Campers also are reminded to be responsible with their campfires and to watch out for falling trees - a heightened danger with the large number of dead lodgepole pines from the mountain pine beetle epidemic.
There are no fire restrictions as of Saturday, but some campgrounds are closed because of the removal of beetle-killed trees, construction or snow conditions. The Granite and Hahn's Peak Lake campgrounds in the Hahn's Peak-Bears Ears Ranger District will be closed during the holiday weekend. In the Parks Ranger District, Aspen, Pines and Teal Lake campgrounds also will be closed. Call the Hahn's Peak-Bears Ears Ranger District at 870-2299 or the Parks Ranger District at 723-8204.
All campgrounds on the Yampa Ranger District are open. Call the Yampa Ranger District at 638-4516.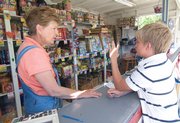 Steamboat Springs — It appears the fire danger in Routt County, and nearly all of Colorado, will remain low throughout the week and into the Fourth of July holiday. With personal and professional fireworks shows igniting small fires during recent Independence Day celebrations, Routt County Emergency Management Director Bob Struble said the decreased danger provides a welcome change of pace.
"We're in pretty good shape for once, it doesn't happen very often this time of year," he said.
Even so, fireworks that shoot into the air or have a "report" remain illegal by municipal and state law.
"In a nutshell, anything that leaves the ground or goes 'boom' is illegal," Struble said.
Steamboat Springs Police Department Capt. Joel Rae said officers issue between 10 and 15 summonses every year for illegal use of fireworks in Steamboat Springs.
"It usually starts a couple weeks before the Fourth of July, and as you can see, we're getting the calls," he said. "We just ask people to comply with (the laws) and also to be kind to their neighbors."
Rae said explosives always carry a risk of fire, even in relatively wet conditions, and he warned that "fireworks are not meant for in town."
"Obviously our biggest concern is the brush and wooded areas," he said. "And the worst-case scenario is if it lands on somebody's roof."
According to the National Fire Protection Association, in a typical year, more fires are reported on Independence Day than any other day. Fireworks are blamed for half of those fires, more than any other cause of fire.
Rae said the massive fireworks display put on by the city is closely controlled by crews spraying Howelsen Hill, the launching site, with water for days before the show and fire trucks on scene in case of emergencies.
Even so, technical problems, coupled with small fires near the launch sites, cut short last year's show.
This year's show, scheduled for 9:30 p.m. Saturday, will include more launching sites and a practice run Friday.
Other dangers
Yampa Valley Medical Center spokeswoman Christine McKelvie said another danger - and one that sends more patients to the hospital - is alcohol abuse during the Fourth of July weekend and all other holidays.
McKelvie said emergency room doctors could not immediately recall a recent accident involving fireworks, but she said people suffering ill effects from alcohol are common visitors.
"Any hospital emergency department would tell you that treatment of alcohol issues is a big part of what they do, and we would like to see people be reasonable and safe," she said. "It's all kinds of accidents or incidents fueled by too much alcohol."