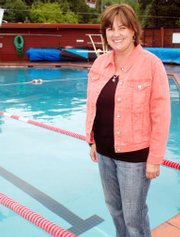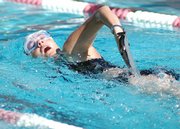 If you go
What: Triathlon training clinic
When: The three-camp series starts at 10 a.m. today at Old Town Hot Springs with a swimming-focused camp. A physical therapy, Pilates and core-training focused camp will follow July 16 at Forever Fit. A final swimming camp at Lake Catamount has yet to be assigned to a date.
Cost: $10 per athlete per clinic
Online: For more information, check out www.steamboattria...
Steamboat Springs — The Old Town Hot Springs lap swimming pool was nearly overflowing Saturday morning. Not with water, but with eager swimmers who orbited around each lane - anything to squeeze in another aquatic athlete.
Kim Romick found a lane of her own, and before a cool night had entirely turned into a hot day, she was working in the pool.
Saturday swims are a part of Romick's plan to compete in her first triathlon.
"I am trying something totally different with this race," she said. "It's demanding. It's hard to fit it all in, but I'm loving it."
The Steamboat Triathlon is only nine weeks away, and Romick intends to be ready for everything the grueling race can throw at her.
"I needed something to keep me going, keep me motivated, and it's fun to try something different," Romick said. "I wanted something to give me a really strong focus, and this has."
Starting over
If all goes well, no one will ever notice that 2009 marks the start of a whole new existence for the five-year-old Steamboat Triathlon.
The race previously has been organized and directed by 5430 Sports, a company that specializes in promoting and putting on the increasingly popular multi-sport events.
A fallout between local organizers and the Boulder-based company changed all that, however. Now Steamboat Springs locals are sponsoring, staffing, organizing and worrying about the triathlon.
Even in their first year in the pilot's seat, Steamboat's organizers aren't worried.
"Pressure? The pressure I experience is coming from real estate sales," said race director Joy Rasmussen, a Realtor with Colorado Group Realty.
Nearly 300 competitors already have registered for the Steamboat Triathlon. It's a number that Rasmussen said organizers are happy with, especially considering the amount of time before the actual event. Still, it lags behind sign-ups in years past.
Last year's triathlon was at its 600-athlete capacity in early July.
"We weren't handed the keys to the entire logistics and mailing lists," Rasmussen said. "We're starting from scratch, but we are way ahead of where we thought we'd be. We are really excited to have a couple hundred people already. We have a tremendous amount of support that is very grass-roots.
"The expectations and hopes are to sell out, but everyone is just excited to be a part of this now that it has been taken over by the Steamboat community."
Taking a dive
It doesn't have much to do with the change in management, but one of the first changes athletes will notice is a series of training camps designed to help first-timers and veterans gear up for the Aug. 30 race.
Three camps will lead into the event, starting with a swimming clinic at 10 a.m. today at Old Town Hot Springs. The idea behind the series is to help athletes overcome common problems and to turn fence-sitting locals into registered competitors.
Swimming is one area that experienced triathlon competitors admit often needs work. Rasmussen enlisted Patti Worsley to offer the necessary help.
Worsley coaches the swimming team at Moffat County High School and helped both of her sons, Blake and Cole, earn college scholarships in the pool.
"We will be specializing in technique for any triathletes in need of perfecting their strokes," Worsley said. "We will also focus on the mental aspects of swimming a triathlon."
Rasmussen and Worsley said swimming often can be the Achilles heel for triathletes. The swim - three-quarters of a mile for the Steamboat Triathlon - isn't your average dip in the lap pool, and the technique most swimmers picked up umpteen years ago in childhood swimming lessons won't necessarily cut it any longer.
"Triathlons are a totally different situation," Worsley said. "When you're swimming there will be waves, people beside you swimming in one big group as opposed to a bunch of different lanes. We want to help people to feel comfortable."
One of the most common corrections, she said, involves teaching swimmers to keep their balance in the water.
"That's often the weakest link," Worsley said. "They need to keep it so their head is nice and deep and they are floating instead of sinking."
Core of the issue
The second camp this summer is July 16 and takes an entirely different tone.
Forever Fit, a downtown fitness studio in Steamboat, will host the clinic.
Pam Turner will lead Pilates-based workouts while Lisa Recker, a physical therapist, will help others prepare for the event.
"Basically, I'll offer a mini evaluation," Recker said. "If someone's having trouble, I will be able to give them some exercises and tell them what's going on."
Pilates, meanwhile, could help build athletes' core strength, an especially important aspect of a diverse race such as a triathlon.
"It is excellent for any athlete because all momentum is initiated from your core," Recker said. "You're learning to have stability where movement is initiated."
The date for the final camp has yet to be set but will be in the weeks leading up to the race and will offer athletes one final chance to hone their swimming technique with a trip out to the race venue at Lake Catamount.
"We're still two months before the race. For anyone in a reasonably good fitness level, they can still get ready for the triathlon," Rasmussen said. "This race and distances are such that people can still jump on the bandwagon to get in enough training and do well at the race."