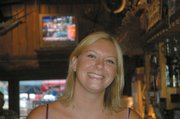 Age: 29
Occupation: Bartender, Double Z Bar & Bar-B-Q
Place of birth: Plattsburgh, N.Y.
Q. When did you move to Routt County, and what brought you here?
A. 2000. The pow-pow.
Q. What's the biggest risk you've taken recently?
A. Moving above the Double Z.
Q. Describe your morning routine.
A. Run, coffee, crossword.
Q. What's the best piece of advice you've ever been given?
A. Don't eat the yellow snow.
Q. What three things would you want people to know about you?
A. I'm 5 feet, 10 inches; I can run a mile faster than you; and I beat Slayer.
Q. What did you want to be when you grew up?
A. Honestly, I have a picture from age 6, a roller-skating waitress is what I wanted to be.
Q. If you could invite any four people to dinner, who would they be and what would you talk about?
A. Roseanne Barr, Martha Stewart, Danny Kass and Anthony Bourdain. Everything.
Q. Do you collect anything?
A. Stripper cards from Vegas.
Q. In the Meatloaf song, "I'd do anything for love, but I won't do that," what is that?
A. Change. I am who I am.
Q. What was your first job?
A. Dishwasher at an old folks' home.
Q. Who is your favorite superhero? Why?
A. Fartman makes me laugh.
Q. Do you have a tattoo? If so, what of and why did you choose it?
A. I have a couple. No reason, I just like them.
Q. Do you have any phobias?
A. Nope.
Q. If you could go back in time, to what event or time period would you go?
A. The 1970s, so I could wear a one-piece in style.
Q. What is your favorite thing to do in Routt County?
A. Drink at the Z.
Favorites
Book: "Joy of Cooking"
Song: "Free Bird"
Color: Purple
Food: Chips and salsa
Vacation spot: Vegas
Movie: "Clueless"