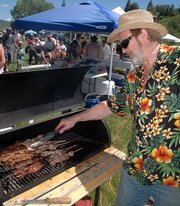 Steamboat Springs — South Routt standbys and new faces graced the booths at Saturday's Taste of South Routt at Decker Park in Oak Creek.
Chelsea's Restaurant and Rachel's Smokin' BBQ Sauce were among those offering meals, and the new Fun Bucket and the incoming Sumatra's restaurant also sold food to hungry revelers. Twenty vendors spread out under a blue raspberry sno-cone sky, selling food and wares to hundreds.
The event included about 10 percent more vendors than last year, organizers said. Ken Montgomery, president of the South Routt Economic Development Council, said he expected about 500 people to show up. That's average for Taste of South Routt, which is in its 12th year.
"We had a real good turnout throughout the county with donating prizes for the silent auction and door prizes," Montgomery said.
Rachel Green sold ribs, sausages, brisket, pulled pork and other meat from her
tent. Green brought enough for about 150 people, and she was running low by about 3:30 p.m.
"It's a very good day," she said. "A very, very good day."
She's been making sauce since 1989 and has participated in the Taste of South Routt for about a decade. Green served the crowds meat from her smoker, which Phippsburg resident Lynn Whaley made for her out of an old mine light.
"He made that for me special," Green said. "I'm not sure I ever paid him all the money. I just let him eat free."
Steamboat Springs residents Mary and Elizabeth Mayer stood enjoying the live music and drinks. The mother and daughter said they come each year and typically head for Rachel's. Elizabeth Mayer used to live in Oak Creek and uses the event as a chance to return and hang out.
It's worth the drive because of the "small-town atmosphere, music and food," Mary Mayer said.
Near Green's tent, folks sampled gulai ayan, or Indonesian chicken curry. Lia Blarecoats sold the curry, spring rolls and soto beef to promote her incoming restaurant, Sumatra's. She bought Judy's Country Donuts and Bakery a few months ago, and Sumatra's will be there.
Blarecoats, who is from Indonesia, plans to sell doughnuts in the morning and Asian food at night. She won't have Chinese food but will offer pho, pad Thai and other dishes.
She was pleased with the response to her food.
"They love it because it's actually spicy," Blarecoats said.
She said she also was glad to have an event to promote Sumatra's.
"I love to cook, so I'm really kind of ready to get some food to people here," Blarecoats said.
Across the grass, organizer Julie Hoff ran the silent auction and the door prizes. She said she was happy with the perfect weather and the turnout.
The event is popular partly because it's ingrained in the South Routt community, Hoff said.
"People come because it's what you do," she said.
- To reach Blythe Terrell, call 871-4234
or e-mail bterrell@steamboatpilot.com