Steamboat Homefinder
Visit SteamboatHomefinder.com for more real estate news.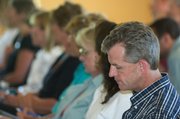 Realtors here are intent on convincing would-be homebuyers that timing the bottom of the market is a risky business that could backfire on them.
"What are buyers doing? They're waiting," Pam Vanatta said during a panel discussion this week. "Buyers create the bottom (of the market). But if you wait, you'll miss the bottom. People who wait will be unlucky."
Vanatta is the broker/co-owner of Prudential Steamboat Realty. Her company partnered with Yampa Valley Bank and Steamboat law firm Sharp, Steinke, Sherman and Engle, to host "A Turn of Events. Buying in Today's Market." She noted that the event was held on a gorgeous late June afternoon. But it may have been more than prime bicycling weather and a sign of the times that there appeared to be notably more Realtors and bankers in attendance than prospective buyers.
Timing the bottom of the market is an exercise made less certain by the sheer number of Routt County listings waiting to be absorbed and the growing number of foreclosure filings.
Attorney Melinda Sherman said the number of foreclosure filings filed to date with the public trustee's office has roughly doubled, when compared to the number on the corresponding date in 2008.
"The number of listings right now is overwhelming," Vanatta said, "and property values vary inversely."
Susana Field, of Buyer's Resource Real Estate, said Thursday there were 2,277 properties listed on the Steamboat Springs Multiple Listing Service of which 507 were single-family homes, including a few in Craig.
A sellers' market can be defined by the twin circumstances of low inventory and high demand, meaning more buyers, Vanatta said. Conversely, a relative scarcity of buyers with burgeoning inventory, which is the case now, can define a buyers' market.
Prudential's Beth Bishop thinks one bright side of the current real estate slump is the re-opening of the window of affordability for working professionals.
If you can come up with a down payment, she asked, why wouldn't you leverage that money to build a nest egg rather than renting and paying the mortgage for a landlord?
"Teachers and nurses now can afford to buy a home and live here," Bishop said.
She used two examples of actual real estate listings to illustrate her point.
The first is an older two-bedroom Deer Creek condo on Chinook Lane that is listed at $289,000. The second is a new three-bedroom, three-bath Aspens at Walton Creek townhome adjacent to Deer Creek. It's listed for $400,000.
In the case of the Deer Creek condo, Bishop worked with down payments ranging from a zero-down USDA loan to 20 percent down on a conventional 30-year mortgage. She described how a buyer could achieve monthly mortgage payments - minus escrow, which includes insurance and property taxes - ranging from $1,387 to $1,734 with the USDA loan.
In the case of the Aspens townhome, the same parameters would produce mortgage payments ranging from $1,760 to $2,400.
She urged renters whose monthly rental payments are the same as, or not much lower than, those numbers to consider leveraging their down payments to build equity rather
than making their landlord's mortgage payments.
Disregard the unprecedented 35 to 40 percent growth in 2006-07 and refocus on the historic average of about 5 percent growth in property values, Bishop said.
Put down $40,000 on a $200,000 home, she said, and within three years, five percent annual appreciation will equate to $31,525, representing a 79 percent return, she added.
Of course, the past two years have taught Steamboat homeowners how the nest egg represented by their home equity can go down as well as up.
"You have to invest for the long term," Bishop said. "People still want to move to Steamboat, and this market will come back."
To reach Tom Ross, call 871-4205
or e-mail tross@steamboatpilot.com