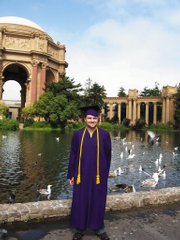 SSHS alum graduates college with honors
Christopher John (Topher) Simon graduated cum laude from San Francisco State University in May 2009 with a major in French and minor in European Studies. He spent his junior and senior years in Paris. He is a 2003 graduate of Steamboat Springs High School.
Simon said his major led to "life-changing experiences in France."
"I spent three years living as a Parisian, learning and mastering the language, gaining at least 15 pounds and traveling throughout Western Europe and some in the Middle East," he said.
Since graduating, Simon has looked for a job and continued his passion for photography. He is looking every day for opportunities to turn photography into a career. His work can be seen at his Web site www.tophersimon.com.
Topher is the son of Diana Simon, of Steamboat; and Jeffrey and Karen Simon, of Hayden.
4 Steamboat natives named to dean's lists
The 2009 University of Portland spring semester dean's list included three Steamboat Springs natives.
Jessica Peters, a 2006 graduate of Steamboat Springs High School; Kelly Northcutt, a 2007 graduate of The Lowell Whiteman School; and Theresa Cutter, a 2008 graduate of Christian Heritage School; earned grade point averages of 3.5 or better.
The University of Portland is a Catholic University in Oregon.
Addison "Marsh" Gooding, a 2004 Steamboat Springs High School graduate, was named to the spring semester dean's list at the University of Vermont.
Gooding is a senior majoring in Geography.
Students at Vermont must have a GPA of 3.0 or better and rank in the top 20 percent of students to be named to the dean's list.