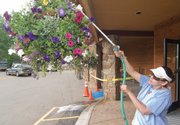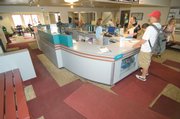 For more
For more information or to sign up for the programs, call Meagan Coates, 875-7003, at the Steamboat Springs Chamber Resort Association.
Steamboat Springs — Steamboat's Chamber is amping up its hospitality and service programs, though the group's top official isn't sure how they'll measure success.
The Steamboat Springs Chamber Resort Association is taking on members for its Spurs on Service program. It's also added a Triple Crown Buddy Program to link business leaders with captains of the softball and baseball teams that come next month. The Chamber isn't doing its summer surveying this year, which could make it tricky to gauge how well the programs work, Executive Vice President Sandy Evans Hall said.
The Chamber started its Spurs on Service program last winter. Although the agency didn't survey visitors, Steamboat Ski and Resort Corp. did. The company reported some of the highest levels of visitor satisfaction among Intrawest resorts, Ski Corp. President Chris Diamond said in January.
"Really, the only measurement we have for the winter season is the higher promoter scores and intent to return," Evans Hall said.
Spurs has about 10 members, including the city and Ski Corp. The $150 program includes two visits from a secret shopper, Chamber Membership Director Amy Minotto said.
"For the businesses that have enrolled, they have really had a great response getting a candid response from secret shoppers," she said.
The businesses receive scores from the secret shoppers, which translate into their receiving a rating of one to four spurs. Holiday Inn and ResortQuest are among the four-spur businesses, Minotto said.
"Right now, I think it's so important for businesses to really look at their customer service and how they're doing," she said, "because it's so important to treat our visitors the best we can with the competition and economy."
Businesses must enroll by July 15 to make the next Chamber guide, Minotto said.
Moving Mountains Chalets joined the program to help train its seasonal winter workers, President Robin Craigen said. Spurs on Service teaches employees about the history of the community, as well as Steamboat's welcoming attitude, he said.
"It's actually really important that they can share as much of these community values as possible," Craigen said. "It's really bringing them up to speed as far as their role in the community, to make sure the guest leaves happy, and they'll go back to their town and tell people how great it was and how their time in Steamboat was different than Vail or Aspen or places like that."
Diane Hagihara, front desk manager at Old Town Hot Springs, said her staff members learned a great deal from the Spurs program.
"Four of us managers went to it, and we decided it would be great for my staff, the front desk to participate in it - and to have somebody else inform them of it instead of me always at the staff meetings," Hagihara said.
The Chamber is just starting on the Triple Crown Buddies Program. Business leaders will contact team captains to welcome them and offer advice. It's not meant for businesses to promote themselves, according to a Chamber letter.
About 16 businesspeople responded as of Thursday, Evans Hall said. With Chamber staff members, that means about 25 people will hit the phones this week to call teams that are booked for the Triple Crown World Series.
The Chamber is focusing on Triple Crown because it has access to those visitors, Evans Hall said.
"It actually came up last fall when we were looking at : some things we might be able to do to enhance tourists experience while they're here," she said. "This happens to be one group we can get their phone numbers and call."
Marty Duran, who bought Old West Steak House more than a year ago, said he planned to participate. He's been in Steamboat for about three decades and has worked in restaurants and driven a taxi. Duran said he was used to helping tourists navigate.
"I enjoy doing stuff like that, so I think it'll be fun," he said.
Duran said he planned to be honest with people and help them find what they're looking for. He said he doesn't intend to show bias toward his restaurant.
"I don't bad-mouth my competition," Duran said. "I think that's not a smart thing to do. If restaurant owners start talking bad about each other, people who are visiting think, 'Are there no good restaurants in Steamboat?'"
Craigen said one of the keys to hospitality in town is making sure employees really understand the community. The friendly feel of Steamboat is what sets the town apart, he said.
"It's the kind of thing if Disney could bottle and sell that, they would," Craigen said.