Tom Ross
Tom Ross' column appears in Steamboat Today. Contact him at 970-871-4205 or tross@SteamboatToday.com.
Find more columns by Tom here.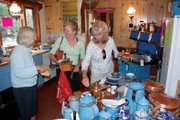 Steamboat Springs — You get a curious feeling while touring the home of a former colleague and pawing through the family possessions looking for something to purchase.
I walked away from the home of the late Henry and Elaine Stroncek at 850 Aspen St. in the gathering rain Friday with a beautifully illustrated 19th-century book safely stowed in the camera bag. Tucked under my arm was a thick sheaf of Hank's oceanic navigation charts (just in case I ever run away to join the Merchant Marine). There was also a handful of cold steel chisels I couldn't resist at a buck apiece.
Elaine and I worked together at the newspaper 30 years ago when the Steamboat Pilot published just once a week. She was the advertising manager and arrived at the Pilot overqualified - she had designed ads for the Dayton-Hudson department store chain in Minneapolis for a number of years.
We worked elbow to elbow into some long Tuesday evenings as we hustled to paste up the paper.
Elaine died on Memorial Day in 2002. Hank died on Thanksgiving in 2008.
Their home, it turns out, was a treasure trove of collectibles, antiques and curious objects - pocket knives, leather camera cases, fishing rods, Blue Willow china, tackle boxes and homemade gun cabinets. There was Hank's old Coast Guard uniform from World War II (he served in the Atlantic and the Pacific), handmade tool boxes, a large collection of coffee pots and coffee grinders, tiny leather baby shoes, a catcher's mitt and on and on.
A portion of the sheer volume of collectible furniture and glassware can be attributed to the fact that after she left the newspaper, Elaine became the proprietor of Fat Chance Antiques in a plain-looking green house at the corner of 12th Street and Lincoln Avenue.
The depth of the Stroncek collection was sufficient to encourage Annie Tisch, of Annie's Home Consignments, to conduct an estate sale that continues this weekend and resumes again during the holiday weekend, July 3 to 5.
The Stroncek home sits close to the banks of Soda Creek and is possibly the cutest log house in Steamboat. It was built in 1927 by "Chief" Harry Gordon, as everyone in Steamboat knew him. The book "Steamboat Legends" records that Gordon was not a chief of any native tribe but that he was a member of the Miami tribe and moved his family here from Oklahoma in 1921. Along with the rest of his tribe, he had profited from lead, zinc and silver mining operations. He had the wherewithal to build the Chieftain Theater and the Chieftain Ballroom (no longer standing at 345 Lincoln Ave.) in addition to the family home.
The siding on the house consists of intricately cut and pieced logs, some of them very small in diameter and arranged in chevron patterns. It is listed for sale for $925,000, and the surviving Stroncek/Worrell family is letting hundreds of possessions go. You couldn't go wrong grabbing one of several official Steamboat Ski and Resort Corp. cowboy hats originally purchased from Harwig's Western Wear in the 1970s (Hank worked in the gondola lift department for LTV-RDI for a number of years).
Hank and Elaine's daughter, Lynn Worrell, acknowledged having mixed emotions about the estate sale. But she was also philosophical about the subject.
"I know a lot of the people here; a lot of them I've known forever, and it's nice knowing that things are going to a good home," she said. "It's been a nice morning."
Jaynie Austin-Daub was exploring the front parlor with a cardboard box under her arm. In addition to a few small items intended for a little girl, she had snagged what looked like a tiny folding canvas camp chair.
"It's a whatchamadoodle you hold thingamabobs in," Austin-Daub said. Actually, it was a portable carrier for knitting supplies.
Jeannie Gillaspie had a novel idea about how to use one of Hank's small oil cans. She planned to keep it on a dresser and stack her collection of rings on its long, cone-shaped spout.
Jan Fischer had latched onto a beautifully made wooden recipe box that Elaine had acquired for her high school home economics class. It was still stuffed with handwritten recipes.
Fischer planned to keep the recipe file intact and actually prepare the dishes it contains. I think her plan for the recipe box nicely illustrated just how personal an estate sale can be.
In the end, material possessions alone could never sum up a life well-lived. But a humble recipe box kept intact can symbolize all of the love and preparation that went into a hundred dinners, just as a set of well-worn tools speak about a life spent building things by hand.
Estate sales contain almost as many human stories as they do collectible objects.
Tom Ross is a longtime Steamboat resident. His column is published Tuesdays and Saturdays in Steamboat Today.