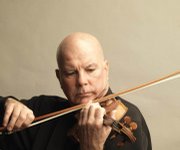 If you go
What: Elmar Oliveira, opening night of the 2009 Strings Music Festival
When: 8 p.m. today
Where: Strings Music Pavilion, at Pine Grove Road and Mount Werner Drive
Cost: $50
Call: 879-5056
More information: Oliveira, a Grammy-nominated violinist, will perform the Mendelssohn Violin Concerto in E minor. A Strings Festival Orchestra delivers Beethoven's Symphony No. 8, and Christopher Theofanidis' "Visions and Miracles" starts the program. A champagne reception is after the concert.
Steamboat Springs — In December, Andres Cárdenes and Monique Mead outlined an ambitious set of goals for their first season as co-music directors for Strings Music Festival.
After being chosen to direct classical programming for the summer-long festival in September 2008, Cárdenes and Mead spent a few months formulating a plan to sustain interest and excitement in a festival going into its 22nd year.
On tap were internationally renowned artists, shorter and more accessible Wednesday night programs, varying combinations of work on each concert, multimedia presentations and unfamiliar world instruments.
"We're doing all of it," Cárdenes said Thursday, sitting with Mead in the green room of the year-old Strings Music Pavilion.
Elmar Oliveira, a Grammy-nominated violinist with dozens of awards to his credit, opens the co-directors' first season at 8 p.m. today. Oliveira joins a revamped Strings Festival Orchestra for a program that starts with a modern American piece, Christopher Theofanidis' "Visions and Miracles," and ends the first half with Beethoven's Symphony No. 8. After intermission, Oliveira will perform the virtuosic Mendelssohn Violin Concerto in E minor. The program is emblematic of the mix of styles that will be present in classical performances throughout the season, Cárdenes and Mead said.
"The way that the programming is put together : what you might typically have heard before is a Schubert with a Brahms, and there you have it. Now we're mixing it up," Mead said. Each concert will have a connective thread, but that thread might not immediately be obvious, directors said.
On Wednesday, the first mid-week classical concert of the season will take on pieces from centuries of repertoire and feature the electric violin on one selection. The thread for the show, which also features short, fast works by Beethoven and Bach, is the energy; everything on the list is a showpiece.
"Things are similar in interesting ways," Mead said. Wednesday concerts will be shorter and start earlier, with a 90-minute, no-intermission run time finishing up before 9 p.m. each week.
On the cutting edge
Fewer musicians will come through the Strings Music Pavilion under Cárdenes and Mead's direction, and those who do come will stay longer.
Most musicians featured in Wednesday night classical concerts will stay for that week's Saturday show as soloists - or on Saturday and July 11, as members of the Strings Festival Orchestra. Performers and directors will be available for meet-and-greets outside the Pavilion after shows, Cárdenes and Mead said.
"We will be out there as people come out and would love for people to talk to us," Mead said. "We want to hear what they like and what interests them."
Cárdenes hopes the extra face time with festival musicians will increase interest in and understanding of the festival and provide a personal connection for audience members. Cárdenes and Mead hope an expansion of Strings' traditionally chamber-music-focused programming will give the festival renewed energy as it goes forward, they said.
"It's very important to keep on the cutting edge and remind yourself every day that your audience is your lifeblood," Cárdenes said.