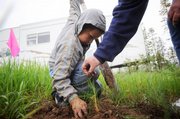 Steamboat Springs — Hundreds of flashy pink flags marked the future homes of baby trees Friday at Steamboat Lake State Park.
More than 100 volunteers planted lodgepole pine, aspen and spruce trees alongside the flags, hacking aside wet dirt in the rain. The Bark Beetle Information Task Force led the planting Friday morning and afternoon. Children, parks and forest service employees and volunteers helped out.
Sara Ferris works in marketing at Steamboat Ski and Resort Corp. She participated with several people from Ski Corp.
"This is where I used to come when I was a kid and did dads and kids camping," Ferris said. "So I wanted to give back."
The U.S. Forest Service and the Colorado State Forest Service donated about 2,000 trees, Oscar Martinez said.
Martinez, the U.S. Forest Service district ranger in Yampa, helped plant and provided information to participants. He said he discussed changes in the forest. Mountain pine beetles are killing lots of lodgepole pine, Martinez said, but they aren't ruining the woods. They're just changing it.
"I was just trying to leave (participants) with a positive message," he said. "Even though we've lost a lot, there's still a lot of forest there."
Tara Mehall, a forester for the state forest service, coordinated the clearing of other trees before Friday's planting. The agencies opted for a mix of native trees, Mehall said. The lodgepoles grow the fastest. After they establish roots in about five years, they grow about a foot a year, she said.
Lodgepoles are a recommended choice for planting despite the beetles, Mehall said.
"It's hard to say whether we'll experience another severe mountain pine beetle epidemic, but it's always best to plant the native species," she said.
Jim Weber was among the planting team Friday. He's been a member of the Bark Beetle Information Task Force for years, he said.
"This is one of those things that affects the community as a whole," Weber said.
He popped a tiny spruce into a freshly dug hole. The rain drenched the volunteers, who carried on just the same. The water will do the young trees good, Weber noted.
"You couldn't ask for a better day to do this," he said.
Some new Yampatika employees were finishing their training week planting in Wheeler Loop at the Steamboat Lake campground.
The beetles have brought down so many trees that planting is crucial, naturalist Anna Kurtz said, "to get the cycle going again."
Six SmartWool employees participated in the planting. They just had their service day a week before and decided to come back out to help, Erin di Santi said.
"I think it's great having the kids out here today, teaching them from a young age to care for the environment," di Santi said.
Marcos Carmona works in maintenance for Steamboat Lake State Park. In addition to helping the environment, adding trees makes maintenance easier, he said. As trees die and fall, they leave less protection for smaller trees and other plants, Carmona said. Those are then more susceptible to being knocked over by wind.
He also noted that he's seen a change in wildlife. Animals such as porcupines are scarcer at the park, Carmona said. Adding trees could bring some of that wildlife back.
"If we can just get the forest going, in 20 years we'll see improvements to wildlife," Carmona said. "It's important that we get to rebuilding it for the next generation."