Strings' Music on the Green starts Thursday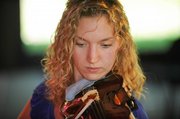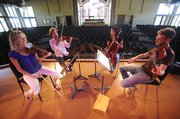 If you go
What: Meridian Quartet, opening Strings Music Festival's Music on the Green free summer concert series
When: 12:15 to 1 p.m. Thursday
Where: Yampa River Botanic Park
Cost: Free
Call: 879-5056
More information: Meridian Quartet, a group of string players who met playing in Miami's New World Symphony, will play Music on the Green concerts Thursday, and on July 2 and July 9. Steamboat Wind Trio plays light classical music July 16; Trevor G. Potter performs acoustic American folk music July 23; Steve Boynton and Tim Cunningham offer jazz standards July 30; Yampa Valley Boys deliver musical cowboy stories Aug. 6; and Legal Tender ends the series with classical rock and country Aug. 13.
Steamboat Springs — On Tuesday afternoon, the four musicians of Meridian Quartet shook off their jetlag, tuned up their instruments and lilted through a George Gershwin string quartet they hadn't played in two and a half months.
Violist Karl Pedersen had just driven into town from Miami, and violinist Claude Halter recently got back from a trip home to Paris. Bringing diverse backgrounds to the mix, Meridian Quartet will play free concerts the next three Thursdays as Strings Music Festival's 2009 Young Artists in Residence.
The first show is from 12:15 to 1 p.m. Thursday at Yampa River Botanic Park and will be an introduction to the string quartet, Pedersen said.
Along with Anastasia Storer on violin and Anne Lee on cello, all four members of Meridian are fellows with the Miami-based New World Symphony, an organization that bills itself as "America's orchestral academy."
During two and a half weeks of concerts, outreach and coaching, the quartet hopes it can share a love of classical music with the community.
"I think the goal of the program is to have a variety of music from different genres and different centuries," Pedersen said. Each of the quartet's sets has a theme, he said. Meridian will get coaching from veteran Strings commentator Ken Greene about how to connect with listeners who might not be familiar with classical music.
It's "just so they understand more of it. I think classical music, in general, can be very nonaccessible," Storer said. Meridian hopes the Music on the Green concerts help expose classical music to a broad audience, the musicians said.
The quartet found its way to Strings through new classical music co-director Andres Cárdenes, who was Storer's violin professor at Carnegie Mellon University. When Cárdenes and his wife, violinist and music educator Monique Mead, got their jobs with Strings last summer, Storer was there to share their excitement.
Cárdenes "mentioned something about a string quartet program, and that had my interest from the start," Storer said. The four musicians started playing in New World Symphony together in September and formed Meridian Quartet in January.
"We started off just reading some quartets together, and we really clicked, and we're still really clicking," Storer said.
In the quartet's repertoire, Haydn and Beethoven provide a traditional chamber music base, with compositions by Dmitri Shostakovich adding modern energy and light arrangements by George Gershwin offering jazz accessibility.
Meridian will attend coaching sessions with string musicians Chee-Yun and Arturo Delmoni, give community outreach concerts to local senior centers and the Boys & Girls Club of Craig, sit in with the Strings Festival Orchestra in performances Saturday and July 11 and turn pages for chamber musicians.
The young artist program has been around for years, and in the past has brought in musicians who were still in school for weeks of performances, educational opportunities and assistance in stage management and production, said Elissa Greene, education and IT director for the festival. That setup has been adapted in 2009 for a quartet with more professional experience, Greene said.