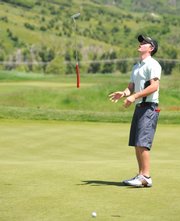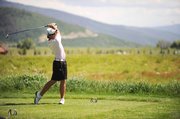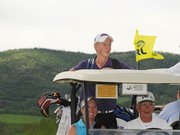 Steamboat Springs — If there was ever a day Connor Klein grew up on a golf course, it was Tuesday during the final round of the Haywhacker Junior Golf Championships at Haymaker Golf Course.
Klein, a rising sophomore who plays golf for Highlands Ranch High School, battled early nerves with a more experienced final group and closed out a college-bound golfer in a playoff to win the boys championship, with a 1-over-par 145.
Brennan Dolan, who will play for the University of Colorado next year, finished second with a 145 but lost in the playoff. A.J. Morris finished third with a 146.
"Actually, to be honest, I was really nervous because I never played with those guys," Klein said about playing in the final group. "I was really nervous the first four holes. But I started to get back into a rhythm and found I could hang with those guys."
Besides a bogey on No. 2, Klein looked like the more experienced golfer. He had a one-shot lead over first-round leader Cody Kent, who shot 69 on Monday, and Clark Shafer going into No. 15.
But where Kent and Shafer made bogies on 16 and 17, Klein was smooth with a couple of pars.
Heading to the 18th, he'd heard Dolan - who was playing in the group in front of him - was at 2-over heading into the final par 5.
"I knew (Dolan) was going to birdie No. 18," Klein said.
Klein set himself up in prime position for a birdie with a drive right in the middle of the fairway. His second shot caught the greenside bunker. He chunked one out from there and left a putt six feet short. Knowing he had to make it to force a playoff, Klein admitted he was again nervous.
"I was shaking," he said. "It had quite a bit of break to it. I hit it firm at the right edge, and it went in."
On the playoff hole, No. 15, Klein hit his drive in the fairway while Dolan's was in the left rough. Each player had about 175 yards to the center of the green. With wind in their face and an uphill shot, each judged it to be a different yardage.
Dolan thought his would play at about 190 yards. His shot flew to the very back edge of the three-tiered green, leaving him a downhill snake - a long putt with significant break. Klein, meanwhile, played his second shot at 184 yards and hit it nearly perfect, to within 12 feet.
Dolan lagged his putt to four feet and Klein missed his birdie. But Dolan just missed his par putt, giving Klein the championship.
"I left it above the hole," Dolan said about his last putt. "I left a downhill slider and hit it too hard."
Steamboat's lone representative in the boys championship, Scott Ptach, finished tied for 18th after shooting a 77 on Tuesday.
Ptach had an up and down day. He made five birdies but took a triple bogey on No. 8.
"I'm playing good," Ptach said. "I don't think I've had that many birdies in a round. I'm giving myself good opportunities, I just need to work on my short putting."
Danielle Urman won the girls 14- to 18-year-old division, by shooting a two-day total of 162. Holly Schaefer won the girls 11- to 13-year-old division shooting a 181. Jake Staiano won the boys 11- to 13-year-old division shooting 156, Nicholas Reisch won the boys 14- to 15-year-old division shooting at 153, and Ryan Frost won the boys 16- to 18-year-old division, shooting a 157.
- To reach Luke Graham, call 871-4229 or e-mail lgraham@steamboatpilot.com