Tom Ross
Tom Ross' column appears in Steamboat Today. Contact him at 970-871-4205 or tross@SteamboatToday.com.
Find more columns by Tom here.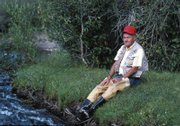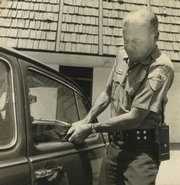 Steamboat Springs — It was great to get wind last week of a former longtime colleague, Neil Cantwell.
A loveable curmudgeon if ever there was one, Cantwell wrote a weekly fishing and hunting column for the Steamboat Pilot for more than 20 years. He wrote Outdoors under the pen name Carl Creel, although his picture ran with every column. The column published every week without fail from 1971 until about 1993.
Cantwell learned to fly fish on the blue ribbon trout streams of southwest Montana, but he somehow managed to get himself exiled to Denver. After sampling the trout fishing in Northwest Colorado, he snagged a job with the Steamboat Springs Police Department.
He was the guy who would open your car when you locked the keys inside one day and then heartlessly give you a parking ticket the next week.
He saved all his charm for his wife, Delphine, and for sweet-talking ranchers along the Elk and Yampa rivers to gain permission to fish.
Cantwell also achieved some measure of immortality in 1981 when he published a collection of fishing columns in a book titled "Your Fly is Down! Trout Tales of the Rockies."
The book is in the collection of Bud Werner Memorial Library. You can find it up there on the second floor with the fancier fly fishing books.
I lost track of Cantwell at least 15 years ago after he bailed out of Steamboat to live in Grand Junction. Out of the blue this week, a new column from Carl Creel arrived in my e-mail inbox.
His daughter, Candice, explained to me that this column was a labor of love for the valley he left behind; Delphine died last October. Neil's hearing is quite poor, and he has lost much of his vision.
So, Neil Cantwell, one of the best and most persistent anglers this ski town with a river running right through it has ever known, is fishing mostly in his imagination these days from his residence in Wheat Ridge.
Here is some of what Neil wrote this month:
"Truth be told, my move to the mountains from smoggy crowded Denver wasn't that difficult. During the mid- to late 1960s I had spent some time fishing in and around the Steamboat Springs area.
"Finding the lovely Elk River to my liking, I knocked on rancher John Fetcher's door. Mrs. Fetcher opened the door, and I was told to go ahead and fish but please obey the small sign posted 'Sport fishing only - keep two fish limit.' This was fine by me, as I usually don't keep any at all.
"So began my 25-year love affair with the beautiful lower Elk River.
"It was here on the Lower Elk that Chuck Lodwick, famed aviator, came up with this immortal line now heard worldwide, "Let's get out of these wet clothes and into a dry martini!"
Cantwell enjoyed great fishing success on the Elk and did almost as well on the Yampa, averaging six days of fishing a week. He estimates that during the 1970s, he would typically net 20 fish a day (not counting whitefish).
One of my favorite chapters in "Your Fly is Down!" is a reminiscence about a solitary day of fishing Cantwell experienced on his 55th birthday.
He took a snooze under a cottonwood on the banks of the Elk at mid-afternoon and awoke to find a surly badger sniffing around not 8 feet away. It was a golden autumn afternoon and the beauty of the river combined with the profound wildlife experience seemed to propel him a little closer to heaven.
Here is how the writer described it himself:
"My reverie at an end, I lighted a smoke and spent the next 10 minutes congratulating myself on choosing this area of Northwest Colorado as the place to spend the last decade of my life.
"My 55th birthday celebration was one that few men can enjoy whether wealthy or poor. Some six hours spent in the solitary beauty of a Colorado autumn, with no companions, no worries.
"Thankful that there are still places left where the outdoor sportsman can share the day with trout and the animals of our ever-declining wilderness, I pointed my vehicle toward home as darkness settled across the Elk River Valley."
Candice Cantwell confided something touching abut her father to me in her recent e-mail.
"He asked me to share that when the time comes, Neil and Delphine Cantwell want their ashes to be scattered on the Elk and the Yampa rivers," she wrote.
Not a bad way to spend eternity, Carl Creel. But don't be in such a big rush.