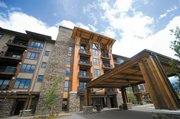 Steamboat Springs — Closings have commenced at Trailhead Lodge at Wildhorse Meadows, and the luxury base-area condominium project also officially has entered the Steamboat Springs rental pool.
Resort Ventures West Principal and Chief Financial Officer Brent Pearson said there have been cash closings for three of the development's 86 units. About 60 more units are under contract, and Pearson said they are scheduled to close beginning in July and continuing through August.
Trailhead Lodge is a $71 million condominium project that broke ground in summer 2007. The five-story building comprises 184,000 square feet.
In early April, Pearson said he expected contracts to begin closing soon, and he acknowledged Wednesday that the process is a couple of weeks behind.
"It's mostly just people arranging their financing," Pearson said. "The financial world has become a very different place, and they require much more information from people and much more detailed underwriting documents. It takes much more time than everybody is used to."
Nonetheless, Pearson remains confident that the units under contract will close, which he said is a bright sign for Steamboat in the midst of dark economic times.
"We are very encouraged by what we're seeing," Pearson said. "We're encouraged by the confidence in Steamboat Springs."
Steamboat Resorts President Bob Milne said he also is encouraged by the project. Steamboat Resorts took over management of the property May 1, is marketing the property for nightly rentals and has seen a handful of guests.
"The demand we're seeing initially is more than we expected," Milne said. "We really didn't push a lot for summer. We've been marketing it for winter, and there's a lot of interest for winter.
"I think some people are looking for some new options in lodging, and that's a good one," Milne continued. "Our reservation agents are getting a lot of questions, which is a good sign."
Ultimately, Milne expects 80 to 90 percent of units at Trailhead Lodge to enter the rental program. And, although only three units have closed, Milne said he is working with Resort Ventures West on a program that would allow units to enter the rental pool if they are scheduled to close, even if they haven't yet.
Although interest in Trailhead Lodge has exceeded expectations, Milne was hesitant to make any predictions about the property's ultimate success or the strength of the upcoming winter season overall. Milne noted that most winter reservations aren't made until after the Fourth of July.
"I don't have a good feel yet on : next winter," Milne said. "It will take some time. They're going to be subject to the same market conditions as everybody else and maybe even a bit more challenges because it's a new property."
Pearson was similarly cautiously optimistic about his expectations for the remainder of the Trailhead Lodge units that are not under contract. He acknowledged there is little absorption in the market right now but said he is hopeful lending will loosen up later this summer and fall.
"We're not finding that the product is the issue but that lending is holding people up," Pearson said.
Elsewhere in Wildhorse Mea-
dows, Pearson said Resort Ventures West is moving quickly to receive city approval for a $3 million pulse gondola that would carry skiers from the development near the Meadows parking lot to the public plaza at One Steamboat Place near Gondola Square. Pearson said he hopes to see construction of the gondola begin in August.
"We are still on schedule to have that running by January," he said.
Pearson said Resort Ventures West also continues to work with the city of Steamboat Springs to arrange financing for contract holders at First Tracks. The city plans to use collected affordable-housing fees to loan down-payment assistance to 10 remaining contract holders. The remainder of units in First Tracks will be marketed for sale without deed restrictions later this summer, Pearson said.
The arrangement is part of an approved request from Resort Ventures West to amend its community housing plan for Wildhorse Meadows, replacing deed-restricted units with a payment in lieu for some units, combined with a voluntary 0.5 percent real estate transfer tax on initial sales. There also will be a 0.5 percent real estate transfer tax on each resale transaction for the remainder of Wildhorse Meadows.
There originally were 18 contract holders at First Tracks. Pearson said that number has dwindled as individuals' financial situations have changed.
"There's been no contracts terminated from our side," Pearson said. "They just decided that things have changed for them and they don't want to be in an ownership situation, period."