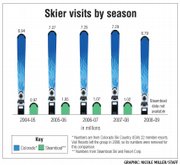 By the numbers
- Colorado Ski Country USA announced that its 22 member resorts saw a decrease in skier visits of 6.9 percent, or about 500,000, in the 2008-09 season compared with the 2007-08 season, which was the second best on record.
- Compared to the five-year average, Colorado Ski Country USA member resort skier visits are down only 3.9 percent.
- Front Range in-state visits were up 2.5 percent in 2008-09.
- Total Colorado skier visits for the 2008-09 season, including nonmember resorts, are about 11.85 million. This estimation shows Colorado being down 5.5 percent, or 690,000 visits, compared with the 2007-08 season.
- On a national level, skier visits overall are down 5.5 percent with the Rocky Mountain region seeing a decrease of 7.2 percent.
- Skier visits are the metric used to track participation in skiing and snowboarding. A skier visit represents a person participating in the sport of skiing or snowboarding for any part of one day at a mountain resort.
Source: Colorado Ski Country USA
Steamboat Springs — Steamboat Ski Area's 2008-09 skier numbers were consistent with a statewide decline, said Andy Wirth, Steamboat Ski & Resort Corp.'s senior vice president of marketing.
Ski Corp. hasn't released its numbers and might not do so, Wirth said. But Colorado Ski Country USA data shows a 6.9 percent decrease in skier visits from its 2007-08 figures. The trade organization represents 22 resorts, including Steamboat. Those resorts reported 6.79 million visits for the 2008-09 season.
Wirth said he was optimistic about Steamboat's future and noted possible changes in international trends.
Skier visit numbers include state, national and international visits, as well as each time a person swipes a season pass, Wirth said. In addition to a decrease in numbers, visitors kept tighter hold of their wallets.
"Our revenues were off more than the total skier visit indicates, and that was based on a decreased spend per visit," Wirth said.
Colorado Ski Country USA also noted that Front Range skier visits increased 2.5 percent. Ski Corp. and parent company Intrawest sought that customer last season, offering the Pow Pow Platter in December. The pass was $99 and included a day each in Steamboat Springs, Copper Mountain and Winter Park.
Wirth said he wasn't sure whether Intrawest would repeat that promotion next winter. The company did decrease prices this year on its passes that include all three resorts.
Also on Ski Corp.'s radar is the international traveler. U.S. lawmakers have discussed encouraging tourism to the country through the Travel Promotion Act of 2009. U.S. Sen. Mark Udall, D-Colo., co-sponsored the measure.
In a prepared speech, Udall stressed the importance of tourism.
"For every $1 million spent in Colorado by domestic and international travelers, 11 jobs are created," Udall said. "Travel and tourism generated about $13.7 billion in revenue in 2007 in Colorado alone. And almost 150,000 Coloradans owe their jobs to the industry."
According to a news release from Udall's office, the measure would:
- Establish the Corporation for Travel Promotion, an independent, nonprofit corporation governed by an 11-member board of directors appointed by the Secretary of Commerce
- Create an Office of Travel Promotion in the Department of Commerce to develop programs to increase the number of international visitors to the United States
- Set up a Travel Promotion Fund, financed by a public-private matching program. Much of the cost would be borne by international travelers, who would pay a $10 fee collected through the Electronic System for Travel Authorization
According to the Congressional Budget Office, the measure would increase revenues by about $135 million from 2010 to 2019. It would cut budget deficits by $425 million during the same period.
Ski Corp. tracks legislation such as this, Wirth said.
"We're, of course, like everybody, wanting to make sure the border's kept safe," he said. "But at the same time, reasonably so and done so in a manner that doesn't discourage or inhibit the
international traveler coming to Colorado to ski."
Colorado might see a significant shift in international tourism for the 2009-10 season, Wirth said. The United Kingdom typically represents 58 to 65 percent of the state's international skiers. But the economy has tanked severely, and Australia might move up, he said.
"A lot of consumer research indicates not only is their economy recovering more quickly, but our travel research indicates the Australian traveler is returning to travel a lot more quickly," Wirth said.
Australians have made up the second-largest group of international skiers, representing 20 to 25 percent of the group, he said. But it could overtake the U.K., which would be a significant shift, Wirth said.
The decrease at Colorado Ski Country USA resorts amounts to 500,000 fewer visits than in 2007-08. But the numbers don't include Vail Resorts properties, which left the trade group in May 2008. According to Ski Country, total Colorado visits were about 11.85 million, a 5.5 percent decrease from 2007-08.
Nationally, skier visits are down 5.5 percent, and the Rocky Mountain region saw a 7.2 percent decrease, according to Ski Country.
Although he acknowledged a decline, Wirth sounded his typical note of optimism about the future. Airfares are down, and Steamboat's customers gave positive feedback about the service they received last season, he said.
Wirth acknowledged that it requires effort.
"Every skier coming to this town is something we're going to have to work to get," Wirth said.
Still, he said, he's confident.
"Even in this tough economy, we have one of the strongest, if not the strongest brand in the ski industry," Wirth said. "I like our chances going into next year."