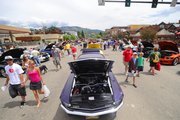 Steamboat Springs — Wes and Jo Young's car is rare, even by Rocky Mountain Mustang Roundup standards.
The Denver couple has an automatic 1970 Mach 1 Twister Special Mustang with a 428 Super Cobra Jet engine. The vehicle was one of 24 of its kind made, and the Youngs said they know of only 18 still in existence.
They found the car on eBay in 2006 after their other classic car, a 1969 Mustang, was stolen with its trailer from a hotel parking lot in Albuquerque, N.M.
"I couldn't sleep for quite some time," Wes Young said. "But a lot of things happen for a reason. If we still had that car, we wouldn't have this one."
The Youngs' Twister was set up on Lincoln Avenue on Saturday, along with about 450 other cars. About 550 cars were registered in the event. Hundreds of people strolled past the stretch of cars with hoods propped open like alligators yawning in the sun.
The number of Mustangs is comparable to last year's, said Lee Nelson, president of the Early Mustang Club. His club is one of the six that organize the event with the Steamboat Springs Chamber Resort Association. The Roundup is in its 21st year, its 13th in Steamboat.
The other organizing clubs are the Front Range Mustang Club, the Denver Mustang Club, the Rocky Mountain Mustangers, the Shelby Automobile Club of Colorado and the High Country Mustang Club. Cars competed in an autocross event Friday, and volunteer judges picked winners in 45 classes Saturday. Those will be announced today at a breakfast for participants.
At the Youngs' Twister, Wes and Jo ate lunch next to their car, which is painted with Ford's signature Grabber Orange. Wes Young wore his car show T-shirt, which includes a Twister and reads, "It's not a hobby. It's an addiction!!!"
There's truth in that, the Youngs said. Wes and Jo have been interested in classic cars for years, and they bought their first one at the 2005 Roundup in Steamboat. That was a 1967 coupe, which they still have.
They restored the Twister from a rusty red heap to the shining orange and black vehicle they showed Saturday, complete with factory specifications. Wes Young said the project was costly but worth it.
"I made a lot more investing in this car than I did in my 401(k)," he said.
"And it's a lot more fun," his wife added. The two rarely drive the Twister, which Wes called "a trailer queen." But he took it on the mountain tour Thursday and has driven on a racetrack in Indianapolis - not the Indianapolis Motor Speedway, home of the Indianapolis 500.
For Wes Young, the classic car is a treat.
"I never had anything like that growing up as a kid," he said. "I know some people who have had the car since they first bought it. : I never had that luxury growing up, so I'm definitely reliving my youth; I can tell you that."