Photo Gallery
Tread of Pioneers Museum exhibit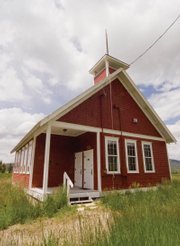 "When the School Bell Rings: A Story of Education in Routt County"
If you go
Tread of Pioneers Museum summer activities:
- Open house at the Mesa School, 2 to 4 p.m. Thursday: Museum assistant Katy Taylor leads demonstrations about a typical day in a Routt County country school.
- Mineral Springs walking tours, 9 to 10:30 a.m. every Tuesday starting June 30: Meet at the Depot Art Center to follow a trail of natural mineral springs.
- Olympic Heritage walking tours, 9 to 10:30 a.m. every Wednesday starting July 1: Learn about Steamboat's skiing history and Olympic track record with a tour starting at Olympian Hall at Howelsen Hill.
- Historic downtown walking tours, 9 to 10:30 a.m. every Thursday starting July 2: Start at the museum for a tour of some of downtown Steamboat's oldest buildings.
- Brown bag lunch lectures, noon to 1 p.m. every Friday starting July 3: Bring a lunch and listen to locals tell the stories they or their families lived.
- Pioneer Day Block Party, 11 a.m. to 1 p.m. July 4: The party starts after the Fourth of July parade down Lincoln Avenue, and it features hot dogs, root beer floats, games, a cake for the museum's 50th anniversary and a free concert by the Steamboat Swings community big band.
All events are free and open to the public. For more information, call Tread of Pioneers at 879-2214. The museum is at 800 Oak St. and is open from 11 a.m. to 5 p.m., Tuesdays through Saturdays.
Steamboat Springs — At its most sprawling, Routt County was home to 96 school districts - most of them one-room, one-teacher affairs that needed a minimum of 10 students to operate, and sometimes covered only a couple of ranch families.
The system was so broad, it would be impossible to recount the stories from all of its parts, said Katie Peck, curator for the Tread of Pioneers Museum. In an exhibit that opened to the public Friday, Peck said she tried to capture the spirit of education throughout Routt County's history, rather than give every detail.
"It's really hard to try and cover every schoolhouse and every district and every story, so this is really a broad generalization of school in Routt County," Peck said. The exhibit, titled "When the School Bell Rings: A Story of Education in Routt County," will be on display during regular museum hours through May 2010.
A Steamboat Springs High School ski band uniform from 1956, a high school pennant from 1912, a desk from the Steamboat Springs school with artifacts inside, an example of a day's schedule from the 1940s and a teacher's contract for the Mount Harris School from 1927 are among the historical items on display.
Panels and pictures give a sense of how a typical student would spend a day in a rural schoolhouse from 1890 to 1957, when the 26 remaining Routt County school districts consolidated to three.
Peck encourages locals who attended some of those country schools to share their stories with the museum. At an opening reception for museum members Thursday night, several said walking into the exhibit was like walking back into the classroom, said Candice Lombardo, executive director of Tread of Pioneers.
The school perspective is at the heart of Routt County's history and culture, organizers said. To help share that perspective, the exhibit includes a DVD display about skiing in the school curriculum and a couple of interactive elements for children and adults.
Tread of Pioneers started open house programs at the Mesa Schoolhouse - which is owned by the city of Steamboat Springs and Historic Routt County, and was added to the National Register of Historic Places in 2007 - last summer and will host a program from 2 to 4 p.m. Thursday at the structure. Museum assistant Katy Taylor will act as school marm and will provide information about the history of the school, a typical day of classes and recreational activities. There will be two similar programs in July and two in August, Lombardo said.
"A lot of the things that you would learn in this exhibit, you would also get to learn about within the old school setting at Mesa school," she said.
Many of the old schoolhouses still are standing and look about the same as they always have; most are privately owned. The Mesa open house and a map of former Routt County school districts included in the museum exhibit allow an opportunity to experience the area's background firsthand, Lombardo said.
"You can reach out and touch history here, and the old buildings really help you do that," she said.