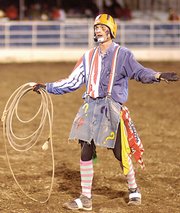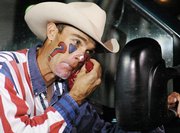 Steamboat Springs — They're all different, but when you get down to the basics, every rodeo clown costume is very much the same.
There are the too-big shorts, usually with painfully colorful underwear hanging out and always with a goofy pair of suspenders holding them up. There's always a bright shirt, always paint slopped across the clown's face and always a wild wig tucked under an unpractical hat.
J.W. Winklepleck, though, performed at Friday's Steamboat Springs Pro Rodeo Series event - the first roping and riding event of the summer - with a little something extra.
He wore a large and shiny belt buckle, unique for clowns - but not at all unique to rodeos - and perfectly appropriate in Steamboat Springs.
"I won it in 2000," he said. "I won the season bareback competition here in Steamboat Springs."
That's what separates Winklepleck from the masses of rodeo clowns. He's been a rodeo man every day of his life, and he said thanks to clowning, he will be one every day for a long time, too.
It's all a part of the appeal that has Winklepleck performing for five of the 10 rodeo weekends this summer in Steamboat.
"We talk a lot of rodeo around our house," he said, chuckling as he cast a glance at his wife, Brenda, who traveled with him to Steamboat for the weekend. "I couldn't imagine it without it."
Born to ride
Winklepleck grew up in a rodeo family near Strasburg on the eastern plains of Colorado. His father raised bucking horses and bulls, so it was natural for Winklepleck to learn to ride them.
He grew into an accomplished cowboy. He earned a full ride rodeo scholarship to the University of Wyoming. He won the bareback title in Steamboat and made the regional finals every year for nearly a decade. He hasn't lost that touch, either. He nearly took home a second buckle from Steamboat in 2007. He even finished a successful ride Friday, forcing the wig to wait as he pulled on a cowboy hat and - fully decked out in makeup - rode in the bareback competition.
That same history led Winklepleck to a career as a clown. When he wasn't riding in his family's bucking stock shows, he was pressed into service as a barrel man. That slowly led to other clowning gigs and, eventually, to this summer, which is more about performing at the rodeo than it is riding.
Steamboat Springs Pro Rodeo announcer John Shipley said all that experience at rodeos is evident in working with Winklepleck.
"He's there when I need him," Shipley said. "There are a lot of sponsor hits I need to do. A clown that's too worried about his own reputation will be constantly bugging me. J.W. knows there are things I need to get done. Then if I dry up, I'll look for him and he's there."
Winklepleck performed two weekends in Steamboat last year, then this year was signed for half of the 10-week summer program.
"They called me up and wondered how many dates I could work in. I was tickled to death," Winklepleck said. "Maybe it's because I've been coming up here so much, but there's a real home atmosphere. Everyone treats me great, and you couldn't find a prettier place to rodeo."
Dreaming big
Winklepleck said he's grown to love playing the clown - to love the reaction from children and love his moments in the spotlight at the center of the arena.
Still, he hasn't given up the dreams he started with as a bareback rider.
He used to dream about making the season-ending National Finals Rodeo in Las Vegas, an honor awarded to only the top 15 money winners in each event.
"I was really trying to make it there 10 years ago," Winklepleck said. "Still, if I started off the year right and got on a roll, won some money at some bigger rodeos, I'd probably start entering a whole lot more rodeos to ride.
"That's a dream. To clown and to ride in the NFR."
That drive likely won't start with his ride Friday. He has landed in the money plenty of times while wearing the makeup, but his score of 69 didn't have him on top after Friday's event.
That didn't do much to sour his outlook hours later, however. Winklepleck leaned in toward the passenger side mirror on his pickup and scrubbed an evening's worth of makeup off with a rag.
He didn't, however, wipe away his smile.
"I really enjoy bucking bulls and horses, and I enjoy seeing people have a good time," Winklepleck said. "It's fun to do what I can to help them have fun at a rodeo, to laugh and not worry about anything. When I see a crowd having fun, that's great."