Photo Gallery
Colin Kirkpatrick's art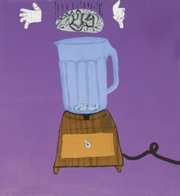 Colin Kirkpatrick, a 2005 graduate of Steamboat Springs High School, has work on display at Urbane clothing store through the end of June.
Steamboat Springs — Colin Kirkpatrick always has put a certain amount of effort into the names of his paintings. He matches them with the mood of each piece, and in some cases, he describes - with no apparent word limit - what's going on in the picture.
In a show of 16 paintings and mixed media works on display at Urbane clothing store, there's a series about the brain being separate from the hands, called "The brain doesn't know what the hands are doing."
There's also a depiction of a burning bridge called, "If you're going to burn your bridges, make sure that you're going to burn it bright enough to see your way home."
Kirkpatrick, who graduated from Steamboat Springs High School four years ago and hopes to finish up at Metropolitan State College of Denver in the fall, said his topics can come from "things that come into my head, things that I randomly think about, or things that people say to me."
His work ended up on the walls at Urbane through a family connection to Mel LeBlanc and Trent Kolste, who co-own the store. The show will be up until the end of June.
Aside from the brain series, Kirkpatrick also includes images he uses in his graphic design work, and he crafted a group of paintings modeled off cultural stereotypes.
"There are the zombie hipsters, which is kind of making fun of my own tendencies and my friends' tendencies," Kirkpatrick said, offering an explanation for pieces with names such as, "I wouldn't be caught dead here normally. : I'm just eating someone here."
"A hipster wouldn't want to be called a hipster, which is weird. : They want nothing to do with each other, but they all kind of want the same thing - kind of similar to zombies, which I thought was funny," he said.
Kirkpatrick devoted some time to art during his school years in Steamboat, but most of his free hours before and after graduation went to freestyle and other types of competitive skiing. He got into graphic art after he started designing stickers for a ski shop where he was sponsored. Once Kirkpatrick "discovered the wonderful world of Adobe Illustrator," it was awhile before he picked up a paintbrush or any physical art tool that wasn't a mouse and computer keyboard.
When he blew out his knee, Kirkpatrick turned back to old mediums.
"I spent all of my time skiing and training for skiing and traveling for skiing, and when that stopped again, I didn't really know what to do with myself," Kirkpatrick said. "When that happened, I needed some kind of outlet for my creative willies."