If you go
What: Family Fun Fest
Where: Gondola Square at the base of the ski area
When: 10 a.m. to 2 p.m. Saturday; rides open from 9 a.m. to 4 p.m.
Cost: Free; Gondola rides are free for children and $10 for adults
More information: www.steamboat.com...
To get involved with the Yampa Valley Sustainability Council, e-mail info@yvsc.org or come to a meeting at 9 a.m. Saturday at Gondola Joe's. The group meets from 1 to 3 p.m. the first Wednesday of the month at Centennial Hall in Steamboat Springs. Search Zero Waste Initiative on Facebook.com to find its page there.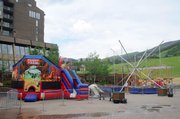 Steamboat Springs — A group of Yampa Valley residents wants to see waste chopped down to a pretty low number: zero.
The Yampa Valley Sustainability Council launches its Zero Waste Initiative on Saturday at the Family Fun Fest. The council will use the Gondola Square event to educate people about zero waste. The concept is that people should recycle or compost as much as possible to cut down on landfill trash, said Liz Wahl, a director at the sustainability council.
"We're going to be manning the trash containers to make sure people put waste in the right containers. : We're calling it the green police," Wahl said.
The sustainability group has worked closely with Yampa Valley Recycles, and Wahl praised that group's efforts toward a greener community.
Steamboat Ski and Resort Corp. is striving to reduce waste, said Wahl, who is the food and beverage director at the resort. Ski Corp. is part of a pilot program to try commercial composting at Twin Enviro Services, which owns and operates the Milner Landfill.
SmartWool and TIC also are participating, said David Epstein, vice president and general manager at Twin Enviro Services. The landfill received a Recycling Resources Opportunities Grant for composting from the Colorado Department of Public Health and Environment. Epstein said Twin Enviro Services was the only Northwest Colorado company to receive the grant.
Twin Enviro already composts solids from the wastewater treatment plant and beetle-killed wood. This is its first push toward composting food waste, Epstein said.
"As we make sure that this works and it's going to be sufficient to do this, we'll grow it," he said.
Twin Enviro eventually will offer the compost materials to residents.
"We'll have compost available here in mid-summer, I'd say, available for sale to the general public," Epstein said.
Keeping organic material out of landfills is crucial to reducing pollution, Wahl said.
"If you can get the organic material out, you stop putting methane into the air, which is one of the main reasons for the climate warming," she said.
Organic waste doesn't biodegrade naturally in landfills, Wahl said. She's been researching the topic, and the information will be part of the Yampa Valley Sustainability Council's educational campaign. The group wants to work with the city, Routt County, businesses and schools on its Zero Waste Initiative.
Saturday's Fun Fest will be a good start, Wahl said.
"There's a few little things that we couldn't find a way to compost, recycle," she said. "Like potato chip bags - those are the only things people should put in the landfill."
Ski Corp. encourages Fun Fest visitors to carpool, bike or take public transportation, Ski Corp. spokeswoman Loryn Kasten said.
"Especially as we're introducing that zero impact initiative, it's a great reminder to be friendly to the environment," she said.
The sustainability council is applying for a grant from the Yampa Valley Community Foundation for the initiative, but it will go ahead regardless, Chairwoman Angela Ashby said. The group hopes to work with other events, such as the Free Summer Concert Series.
"It's going to take a while for us to really get a foothold on it, but the goal is to involve a lot of groups in the process," Ashby said.
The council also needs volunteers to help with its promotion of education and outreach, Ashby said. As part of that educational push, Wahl described zero waste.
"Zero waste is taking a look at your waste stream and saying what's a better way to do this and realizing everything is a resource, you know," Wahl said. "We can turn our organic materials into a resource for the future. It's completing the cycle. When you put it in a landfill, it's stopping a cycle."