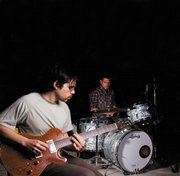 Steamboat Springs — For the past five years, the Steamboat-connected duo American Relay - with Nick Sullivan on guitar and vocals, and Alex Hebert on drums - has relied on a love of R.L. Burnside to craft shouting, strained, whiskey-soaked blues rock that poured energy off the stage and into a full-length album called "Corn & Oil."
On Wednesday, Sullivan and Hebert posted a blog entry on their band's MySpace page, announcing "the death of American Relay." Citing "more than 248 shows" and "some 40,000 miles driven," the two explained "the only thing that is essential to this band, soul and vitality, is not in plentiful supply anymore."
American Relay will play its last Denver show on Saturday at 3 Kings Tavern, and its last show as a band at Minnesota's Deep Blues Festival on July 17.
Both members of American Relay run side projects. Hebert has done a couple of European tours with blues performer Reverend Deadeye, and Sullivan plays with a Denver-based band called Pena.
Read the full break-up note at www.myspace.com/americanrelay.