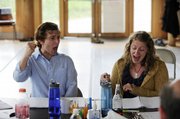 Perry-Mansfield New Works Festival 2009
Performance schedule:
- "The Bone Orchard," written by Elyzabeth Gregory Wilder and directed by Lawrence Hecht: The Denver Center Theatre Company presents a play about a girl who wants to die a virgin martyr, until she falls in love with the boy hired to dig her grave. 8 p.m. Friday.
- "Poor Behavior," written by Theresa Rebeck and directed by Marc Masterson: The Actors Theatre of Louisville presents a dark comedy about a weekend visit from old friends. 2 p.m. Saturday.
- Dance presentation, choreographed by Camille A. Brown: As the festival's guest choreographer, Brown presents new work. 8 p.m. Saturday.
- "Bottom of the World," written by Lucy Thurber and directed by Neil Pepe: Atlantic Theater Company presents a play about love and loss in real and imaginary worlds. 4 p.m. Sunday.
Tickets to all New Works Festival performances are $15, and are available by calling 879-7125 or 800-430-2787.
A weekend package that includes all performances and a festival reception is $50. Rehearsals for all New Works Festival performances are free and open to the public.
A few weeks ago, Elyzabeth Gregory Wilder was pitching her new play, "The Bone Orchard," as "a sweet love story about death."
Two days into rehearsals at the Perry-Mansfield New Works Festival, that theme stayed strong. But "The Bone Orchard" originally focused on a girl who wanted to die a virgin martyr until she met the boy who would dig her grave. Now, the boy is the main character.
"It's become clear that this story is really more about the boy and his journey and how, through her death, he learns how to live his life," Wilder said, taking a break from rehearsals early Tuesday afternoon.
At 8 p.m. Friday, a four-person cast from the Denver Center Theatre Company will give a staged reading of "The Bone Orchard." It will be one of four initial presentations at the New Works Festival. On Monday, Wilder heard her script for the first time. And on Monday night, she rewrote a good chunk of it.
"This play is brand new, and yesterday was really the first time I'd ever heard it read out loud, which was both exciting and terrifying," she said Tuesday.
Later that afternoon, her cast read through the play around a table in the Steinberg Pavilion, working through Wilder's changes.
"I think, for me, one of the goals for this week is to clarify the journey of the main character, so that was one of the main things we talked about yesterday," Wilder said.
She also hopes to "clarify the rules of the world I've created." Her play was commissioned by The Denver Center for the Performing Arts, and it will be directed by Denver Center actor and education faculty member Lawrence Hecht.
In the week leading up to the first public reading of New Works Festival plays, directors and actors from theater companies in New York; Louisville, Ky.; and Denver help writers work through scripts that might be brand new or might already have been through several rounds of edits.
Wilder's "The Bone Orchard" is on the newer end of the spectrum.
Theresa Rebeck, whose play "Poor Behavior" will be presented by the Actors Theatre of Louisville at 2 p.m. Saturday, started her work about a year ago.
A dark comedy about two couples who are spending the weekend together - and the infidelity that plagues that scenario - "Poor Behavior" has had about four drafts, Rebeck said, and it has just a few aspects left to work out.
Until Tuesday afternoon, no one had read the script aloud.
"I've been pretty private about it," Rebeck said, adding that she thought Perry-Mansfield would be a safe venue for an initial public reading.
"You don't have to worry about anything except your work," she said.
- To reach Margaret Hair, call 871-4204 or e-mail mhair@steamboatpilot.com