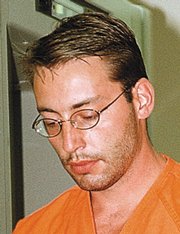 Fort Collins — A Larimer County jury of 11 men and one woman took less than three hours Wednesday to convict Thomas Lee Johnson of first-degree murder in the May 2000 stabbing death of Steamboat Springs resident Lori Bases.
Johnson also was convicted of first-degree criminal trespass and criminal mischief in a retrial granted by the Colorado Court of Appeals in 2006. The Court of Appeals had overturned Johnson's 2001 conviction because of faulty instructions given to the jury.
Johnson's retrial began June 4 in Fort Collins and wrapped up Wednesday with closing arguments. Jurors began deliberations shortly after 1 p.m. and returned their verdict at about 4 p.m. Sentencing is scheduled for 10 a.m. today, when Johnson could receive a life sentence without the possibility of parole.
In his closing statement Wednesday, Routt County prosecutor Kerry St. James told the jury that Johnson's self-defense claim is no defense at all against charges that he killed his girlfriend's best friend to keep her from meddling in their tumultuous relationship.
Jurors, who declined to comment after they left Larimer District Judge Daniel Kaup's chambers Wednesday afternoon, apparently agreed.
St. James argued that a self-defense claim doesn't account for the fact that Johnson took with him a knife, condoms, personal lubricant and a stun gun to Lori Bases' Steamboat home in May 2000. Those supplies, St. James said, clearly indicated his intent to attack Bases.
"He employed a stun gun on her," he said.
Prosecutors said Johnson killed Bases, who was a waitress at Mike O'Shay's in Longmont before moving to Steamboat Springs, because he believed she was encouraging his girlfriend, Kim Goodwin, to pursue sexual assault charges against him and to end their on-again, off-again relationship.
Goodwin and Johnson met when she leased a room to him in her Longmont home. The two quickly developed a relationship. However, according to prosecutors, the relationship was rocky and the two regularly split.
During a reconciliation in April 2000, Goodwin was hospitalized and told Weld County deputies that Johnson had sexually assaulted her. She sought solace with her "best girlfriend" Bases, who had previously been raped, St. James said. He said Johnson was angry because he felt Bases was encouraging Goodwin to pursue charges.
St. James played for jurors phone messages Johnson left for Goodwin, which St. James said showed his potential for rage, and a phone conversation with his ex-wife in which he admits to killing Bases.
"You need to convict this defendant on his own words and the physical evidence," St. James said.
Defense attorneys told jurors that Johnson was ready to marry Goodwin, whom they claim had already decided against sex assault charges, and had traveled to Steamboat Springs to try to persuade Bases to be in the wedding after the women had a falling out. Bases was high on cocaine, got a knife from her bedroom and attacked Johnson, according to defense attorneys. He fought back, they said, and killed her.
St. James said self-defense isn't a valid legal claim because Johnson was the initial aggressor.
"This is first-degree murder here," he said. "This is after deliberation."
Defense attorney Patrick Renworth told jurors they are a check and balance on the government. In this case, he said the government looked only at facts that fit their theory of the case.
"I am going to ask you to exercise that check and balance today," Renworth said. "You have to be cold, unemotional, dispassionate judges of the facts."
Jurors were given the option to acquit Johnson or find him guilty of first-degree murder, second-degree murder or reckless manslaughter.
Steamboat Springs Police Capt. Joel Rae said the department is happy the ordeal is over and that its initial investigation into Bases' murder stood strong eight years later.
"It's a relief to know it's over - again," Rae said Wednesday, expressing regret that the Bases family had to relive Lori's murder.