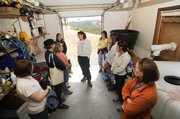 Steamboat Springs — Hayden resident Delanie VeDepo had skied past the laboratory on the summit of Storm Peak, but she'd never been inside.
VeDepo was an invited guest of Atmospheric Science Collaborations and Enriching NeTworks program Tuesday. Part of the event was a tour of the lab for women in atmospheric science from across the country, and as far as Denmark.
ASCENT began Sunday evening with an informal gathering and continues through today. The event offered women in atmospheric science a chance to interact socially and professionally, said Gannet Hallar, director of Storm Peak Laboratory. She said that would hopefully foster relationships that could lead to future collaborations.
Hallar was awarded a $300,000 grant from the National Science Foundation to host the event for three years at Storm Peak Laboratory. Hallar thought that if some of the world's top atmospheric scientists were wandering Steamboat, and area high school students were interested, why not invite them, she said.
That's where VeDepo, a junior next year at Hayden High School, came in. As part of the application to attend the workshop, she wrote an essay about why she wanted to participate.
VeDepo said she doesn't know much about atmospheric science but enjoys science in general.
"I like how there's so many different things to study," VeDepo said. Science "can explain life. It can explain occurrences. It can give explanations to all the crazy questions you had as a little kid."
Not knowing what she wants to study in college or pursue as a future career, she couldn't pass up an opportunity to explore her options. And VeDepo said she couldn't pass up an opportunity to interact with some of the most talented women in atmospheric science.
"There's a lot to learn from the women here. They're well-educated," she said. "I can learn a lot from them. I think they have a lot to offer me."
While VeDepo was learning about a possible educational and career path, the scientists in attendance were there to network and discuss issues that affect them.
Lee Tryhorn, a postdoctoral researcher at Cornell, said she's become increasingly aware of the lack of atmospheric scientists. She said there's only two in Australia, where she's from.
"I looked on this to really build a support network here in the U.S.," she said. She plans to return home in a year.
Many of the scientists said they attended the workshop to network, meet other women in their field and possibly find future collaborative partners. But others were there for different reasons.
Allison Steiner, of the University of Michigan, said being a scientist was like being a small business owner. She said her responsibilities included hiring staff, managing a budget and fundraising, in addition to running a lab.
"They teach you the science," said Christine Wiedinmyer, of the National Center for Atmospheric Research in Boulder. "They don't teach you how to do the job."
Hallar said in addition to scheduled lectures and organized activities, such as the Storm Peak Laboratory tour, issues affecting women in atmospheric science were discussed in closed-door breakout sessions. Some were how to apply for a job and negotiate salary, planning for a family and how to transition into a new career, she said.
"I don't think there are too many events like this," said Gretchen Mullendore, of the University of North Dakota. She added that the ability to network in graduate school and through her postdoctoral research had benefited her career. She said she wanted that to continue as a professor.
The workshop also offered opportunities for mentoring by pairing two junior scientists with a senior scientist.
"I take being a mentor to a younger scientist very seriously," said Annmarie Carlton, of the U.S. Environmental Protection Agency's research facility in Research Triangle Park, N.C. "I always take advantage of opportunities to mentor at work."
At the end of ASCENT's three years at Storm Peak Laboratory, Hallar said, the goal will be to put together a media piece and information packet that would be distributed to every atmospheric department chair. She said they would include information that would help atmospheric scientists succeed in their careers, "to keep talented women in the field."
Whether VeDepo becomes an atmospheric scientist still is to be determined, the Hayden student said after her day at the workshop. With a better understanding of the field and a new network of contacts, VeDepo said she's glad she had the opportunity to attend.
"It definitely has opened my eyes with what I could pursue," she said. "And I'll definitely keep that in mind as I get older."