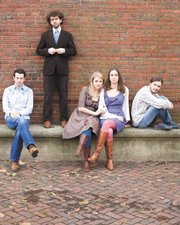 If you go
What: Crooked Still, folk
When: 9 p.m. Wednesday
Where: Ghost Ranch Saloon, 56 Seventh St.
Cost: $12 in advance, $15 day of the show; advance tickets are available at All That Jazz, Pioneer Spirits and Ghost Ranch Saloon
Call: 879-9898
Listen: Songs by Boston-area folk band Crooked Still are streaming at Crooked Still.
Crooked Still has what bassist Corey DiMario calls "a quirky instrumentation," with a cello instead of a guitar, an ethereal female lead singer and a shred-ready banjo player.
"It wasn't like we intended to have this crazy, weird sound. It happened to be that we were all living in Boston and we all liked playing together, so it was more that we were playing the instruments we had at hand," DiMario said. "It was more of a discovery instead of an invention."
The group - which got its start in Boston in 2001 and will head to the 36th annual Telluride Bluegrass Festival on Friday - plays at 9 p.m. Wednesday at Ghost Ranch Saloon. Tickets are $12 in advance and are available at All That Jazz, Pioneer Spirits and Ghost Ranch Saloon. Admission is $15 on the day of the show. Crooked Still last visited Steamboat in June 2007, when it performed with bluegrass band The Infamous Stringdusters at Strings in the Mountains.
DiMario looks at Crooked Still as "less a singer with a backup band than it is a whole, unified group." That group includes leading lady Aoife O'Donovan on vocals, guitar, baritone ukulele, piano and glockenspiel; Brittany Haas on fiddle; Gregory Liszt on banjo; and Tristan Clarridge on cello and fiddle. A quartet the last time Crooked Still came through the Yampa Valley, the band lineup has expanded to five since its first cello player left the group and Clarridge and Haas came on board.
With few original songs to its credit, most of Crooked Still's live set is made up of the band members' takes on archival recordings of traditional American roots music, or songs that "come from the public domain," DiMario said.
"When we all met, we were all still in school back in Boston, and we were all into different kinds of traditional music," he said. "There's a whole bigger movement of younger people in younger bands taking old, traditional material and making it more personal, and more modern at the same time."
To those old recordings, the band members bring a wide set of influences, infusing what might have started as an a cappella folk record with hints of Appalachian mountain music, bluegrass, jazz and pop. That sound has changed since DiMario started playing music with O'Donovan and Liszt in 2001, he said.
"It's had eight years to evolve and kind of become more of what it originally was - sort of more developed and more sophisticated," DiMario said. "And with the addition of the fiddle in there, that sort of expanded the palette of sounds we had to experiment with."
- To reach Margaret Hair, call 871-4204 or e-mail mhair@steamboatpilot.com.