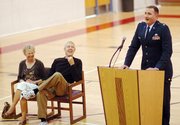 Steamboat Springs — There were a number of basic problems with the roast of Kelly Meek, which took place Saturday in the Steamboat Springs High School gymnasium that witnessed so many of his great seasons, great teams and great wins.
The first problem pertains to Meek's memory. A long line of speakers rose to duel the legendary Sailors boys basketball and track coach, but nearly every story they started was greeted with a knowing roll of the eyes and a chuckle from the event's guest of honor.
Midway through the ceremony, which drew more than 150 of Meek's friends, family members, players and foes, one of his chief rivals, former Moffat County boys basketball coach Craig Mortensen, began to recall one of the most heated battles between the Sailors and the Bulldogs.
Mortensen explained how one of his athletes absorbed heckling from the Steamboat bench after having slid across the court and into the chairs. The situation escalated quickly to the point that an all-out brawl between coaching staffs seemed imminent.
"Remember that bulldog you had?" Meek hollered out Saturday, interrupting Mortensen.
He quickly launched into his own version of events.
"Kelly," Mortensen said with a sigh. "Can I at least finish my story?"
Kelly Meek was a track and basketball coach at Steamboat Springs High School for more than 30 years, compiling 44 league, district or regional titles and 540 wins. According to his protagonists Saturday, through that entire Hall of Fame career he was a know-it-all who, according to one speaker, "would talk at the drop of a pause." He always was ripe fodder for pranks - massive ones involving moving the entire contents of his house onto his front lawn, and small ones that led to desperately unwanted 4 a.m. hotel wakeup calls on team road trips.
He was a tough coach who was merciless in making athletes run wind sprints, a man who was bilingual - speaking "both English and profanity" - and an often-struggling golfer.
He threw elbows in pickup basketball games, all the better to "toughen kids up," and would pretend his best player was injured in the weeks leading up to a big game just to gain an advantage.
"I'd like to say it was all coaching," quipped Cliff Nordyke, a prominent member of successful basketball teams and Steamboat's state champ track squads in 1979, 1980 and 1981. "But, I know it was all our talent."
Meek welcomed nearly every speaker to the stage and sent each away with a barrage of tidbits about that person's life - the points-per-game while playing at Steamboat, time and place in a state track meet event, stats from college and often current profession.
Still, the problems with roasting Kelly Meek didn't all center around his remarkable memory.
A much larger factor was that people simply didn't seem to be able to find many bad things to say.
Players spanning Meek's years in Steamboat traveled from across the country for the event.
Anthony Barrett graduated from Steamboat in 1992, then played basketball for four years at the Air Force Academy. He opted to return to Steamboat and speak about Meek instead of attending a party celebrating his safe return from Iraq.
"I would have never been able to do what I did without you," he said.
Jon Baskin graduated in 1986 and now coaches high school basketball in Denver.
"You always gave us a place to play," he said. "It seemed like the gym was always open."
Given a chance to crack back at what blows came his way, Meek couldn't find much to say, either.
"We're 62," he said, gesturing to his wife, Karen, who sat by him throughout the afternoon. "It's just amazing to see how good we look compared to most of you.
"Really, it was great to see so many people here from young to old. It was great so many people were able to come back."
- To reach Joel Reichenberger, call 871-4253 or e-mail jreichenberger@steamboatpilot.com