Prayer vigil
A prayer vigil for the Green family is at 7 p.m. Tuesday at the United Methodist Church at Eighth and Oak streets. All are invited for a time of prayer and connection during this difficult time. Call 879-1290 for more information.
Photo Gallery
Fish Creek search and rescue mission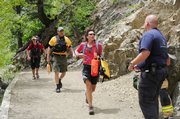 Forty-year-old Rebecca Green, of Steamboat Springs, and her 8-year-old son, Kade, fell into Fish Creek below the upper falls Saturday. Kade suffered cuts on his head but was carried out by rescuers in stable condition. Green has been missing since going into the water at about 1 p.m.
Steamboat Springs — Routt County Search and Rescue is scaling back its search for Rebecca Green until water levels recede to safe flows near upper Fish Creek Falls. Green has been missing since Saturday afternoon. A prayer vigil for the family is at 7 p.m. Tuesday at United Methodist Church.
"We have decided we are scaling back the search until water flows come down and stay down at a consistent, safe level," Search and Rescue spokeswoman Riley Polumbus said tonight. "Rout County Search and Rescue will continue to monitor streamflow data, and we're also going to walk high-probability areas (at the falls) and scan those."
Polumbus said the decision is to ensure safety of search crews not only in the water, but also on the trail.
"The trail is pretty tame up to a certain point, but once you get slick rocks, it's pretty treacherous," she said. "If it continues to rain like this, it's not going to help our water levels. So we'll continue to monitor that and go up as we can."
Polumbus said nothing new came of Monday's search efforts. She reiterated that the length of the search has all but ended hopes of a successful rescue.
"This is a search and recovery mission at this point," she said tonight.
Polumbus said decreased water flows initially offered some help to crews at the scene today. Mount Werner Water and Sanitation District officials agreed to close the water gate at Long Lake, about two miles upstream from the upper falls, at 6 a.m. today to possibly slow the water in the search area.
But the rain kept falling.
"The water level went down a little bit, but the rain that came through brought it back up dramatically," Polumbus said. "It went up pretty quickly... it's just not safe to get to the areas (search crews) need to take a look at."
Polumbus said local rescuers and crews from Summit County searched high-probability areas at the immediate base of the upper falls "very, very thoroughly" Sunday, but because of rocky, unstable terrain and deep, fast-flowing water, many spots remain unchecked. She said help from the Summit County teams Sunday and today has been vital during search efforts.
The 40-year-old Green and her 8-year-old son, Kade, fell into Fish Creek below the upper falls Saturday. Kade was safely carried out by rescuers and released from Yampa Valley Medical Center on Saturday night after treatment for cuts on his head. Green has been missing since about 1 p.m. Saturday.
Mount Werner Water operations manager Jeff Peterson closed the Long Lake gate by radio control at 6 a.m. today. The gate was previously about 30 percent open, he said, and its closing will have "no impact whatsoever" on service for Mount Werner Water customers.
Peterson said because of heavy remaining snowpack and strong water flows, the district is "barely using" water flowing from the falls past the filtration plant on Steamboat Boulevard. He said the heavy flows and runoff from other sources also make it difficult to gauge the benefit of closing the Long Lake gate for search crews.
"I don't know how much that will help them," Peterson said. "Remotely, I cannot tell how much (closing the gate) will stop the flow."
Polumbus said any decrease could help crews, who estimate Fish Creek could be 20 feet deep in some spots.
Polumbus said search crews Sunday found the hat Green was wearing about 300 yards downstream of the point where she was last seen, then they found Green's two shoes about 150 yards downstream of her hat. The items helped narrow the search area, Polumbus said.
Green lives in Steamboat II with her children and husband, Rodney, who was in San Diego with the U.S. Marine Corps when the accident happened and spent much of Sunday at the Fish Creek trailhead with search crews.
United Methodist Church pastor Tim Selby said the Green family is part of his parish, and he has known them for years.
"They are doing as well as can be expected under the circumstances," Selbe said Sunday evening. "They're hanging in there."
Paula Huselton lives near the Green family on Steamboat Drive. She said Rebecca Green is "a very lovely, kind person."
"She's always really good with her kids," Huselton said. "She always has a kind word to say."
Darrel Levingston, of Search and Rescue, said Saturday that Green was hiking with Kade, her daughter, Rachael, and her father, Eldon Adams, who is visiting from Nebraska.
Green's father witnessed at least part of the incident. He said Green was trying to bring Kade back from a rock when Kade slipped and, as she tried to rescue him, Green fell into the water herself.
Kade told Levingston that, after falling into the creek, he was able to grab a branch and pull himself out on the other side.
Two rescuers reached Kade at about 2:45 p.m. Crews set up a highline rope system to bring him back across the creek. Kade was safely on the other side of the creek by 5:10 p.m. He was alert and talkative as rescuers brought him down the trail.
The Fish Creek area will be closed during the search today.
- To reach Mike Lawrence, call 871-4233 or e-mail mlawrence@steamboatpilot.com