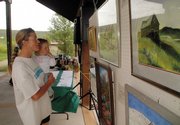 Steamboat Springs — Historic Routt County officials hope a first-time fundraiser - for Diamond Window Cabin at Stagecoach State Park - on Sunday, will lead to future opportunities to preserve the county's iconic landmarks.
Fixing up the more than 100-year-old cabin, a homestead on the Yellow Jacket Pass (now Routt County Road 14), is part of the group's cultural heritage initiative, said Historic Routt County Executive Director Towny Anderson.
He said interest from the pubic to restore Diamond Window Cabin, which is sagging into the hillside on the southern side of the pass, helped prompt the group to hold the fundraiser.
"It's as important to Stagecoach as the Moore barn is to Steamboat," said Stagecoach resident Wes Hunter, who attended the fundraiser with his wife, Mickey.
The cabin, in a corner of the Morrison Creek Valley, sits overlooking the historic route of a stagecoach line running north from the rail terminal at Wolcott to Steamboat Springs and beyond Hahn's Peak.
Anderson said cultural heritage is one of the fastest-growing segments of local tourism, and the preservation of Diamond Window Cabin was a big part of promoting that in Routt County.
"It's an icon of South Routt," he said about the cabin. "It's stood at the head of Stagecoach Lake for more than 100 years now. It's a landmark.
"The idea of the fundraiser is to celebrate our heritage."
The fundraiser also included a barbecue, hiking, biking around the lake, prizes, and silent and live auctions of art depicting the cabin.
Historic Routt County has a number of projects like Diamond Window Cabin that it's working to restore or to get added to the county's register of historic places. Anderson said an annual fundraiser would help the organization's efforts to restore aging structures like the cabin.
Historic Routt County hopes to raise another $10,000 to reach its goal of $20,000. That funding will be dedicated toward stabilizing the foundation, repairing and replacing damaged logs, reconstructing the roof, and re-establishing proper drainage. A couple of years ago, braces were added to the inside of the cabin to help stabilize it through winters after it was added to the county's register of historic places in 2005.
Arianthe Stettner, an adviser to Historic Routt County and its former executive director, said what's exciting about the project is it will be an educational tool. She said people will be able to learn about homesteading, water conservation efforts near the lake and the nearby elk habitat.
"You won't be able to go into it," she said about when the restoration is complete. "It will be a symbol of how simply life was led at one time."
A number of area residents attended the fundraiser for Diamond Window Cabin.
"It's a great cause to support," said Jennifer Fernley, who brought her 1-year-old daughter, Hazel, to the fundraiser. "I live right here in Stagecoach. It's awesome that there's a gig like this happening right on my doorstep."
The fundraiser also attracted Steamboat resident Sherry Reed and her 18-year-old daughter, Shelby, who were ready to hit the trails around the reservoir on their bikes.
"I ride out here all the time," Sherry Reed said. "So this is my way of supporting the area and HRC. And it's a fun way to do it, instead of writing a check."
Anderson said the neat thing about the Diamond Window Cabin preservation was the partnership Historic Routt County formed with Colorado Mountain College's Alpine Campus, which now offers a two-year associate's degree in historic preservation.
CMC students and community volunteers will be able to take a six-credit hour course this summer with instruction in log structure preservation and reconstruction. They'll perform the preservation work on the cabin.
Historic Routt County Board Member David Epstein said those new to town don't know Diamond Window Cabin's history and significance in the county. He said if it and other structures weren't saved, future generations wouldn't know what came before them.
And he hopes this year's fundraiser leads to future efforts to preserve the county's history.
"I think that it was a good opportunity to create a significant fundraiser that we were lacking in," he said. ": We're hoping this evolves into an annual fundraiser."
- To reach Jack Weinstein, call 871-4203 or e-mail jweinstein@steamboatpilot.com