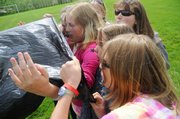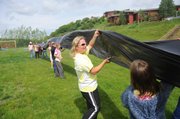 A 50-foot-long cylindrical black balloon bobbed and danced in the air above the soccer field Thursday morning at Colorado Mountain College's Alpine Campus.
Most of the 21 soon-to-be seventh-graders at Steamboat Springs, Hayden and South Routt middle schools and Christian Heritage School - wearing yellow, pink and white tie-dyed shirts - watched. Well, some watched. Others ran around the field with friends. Some were trying to make smaller blue balloons float.
The students were taking part in an experiment that demonstrated how solar power heated the air inside the balloon, causing the balloon to lift skyward - how a hot air balloon works. It was the morning lesson for the "It's All About Energy" overnight summer camp held Sunday through Thursday at CMC.
"I thought it was pretty interesting that the solar heated air enough that it would fly," said Soroco Middle School student Alex Bryant.
The camp was funded through a $50,000 grant from the El Pomar Foundation of Colorado Springs. The grant was split among the Alpine Campus, CMC's Rifle campus, Colorado Northwestern Community College and Mesa State College, each of which offered similar camps.
Camp coordinator Laurie Marano, CMC's director for student support services, said the purpose of the camp was to encourage interest in the STEM - science, technology, engineering and math - sciences. She said the students had to apply for the camp, which included writing an essay about what they like about science and what they want to learn.
"The whole experience is a good one for them," Marano said. "To encourage them to go to college and major in the STEM sciences."
The camp included hands-on activities and instruction in energies including solar, wind and hydro power, said Robin Bush, a math and science teacher at Hayden Middle School, one of two teachers at the camp.
On Tuesday, the campers took a field trip to the Western Colorado Math and Science Center in Grand Junction, where they learned about electricity. They camped overnight at Highline State Park before returning Wednesday.
Bush said the camp exposed children to a higher understanding of energy. With fewer students than during her regular classes, it was possible for her to go more in-depth.
"What's fun for me, what's been fun this week, the kids are working hard and learning about science," she said. "I kind of feel like this gives a different group of kids : the idea that math and science are cool."
The camp's other instructor, Kerry Kerrigan, is a reading teacher at Steamboat Springs Middle School who previously taught math and science for 10 years. Kerrigan said the goal of the camp was to make science fun for the students and to encourage their curiosity.
Many of the campers said their interest already was piqued.
"I like hands-on science stuff," said Tanner Guire, who attends Hayden Middle School. "I like to build and create different things."
Steamboat Springs Middle School student Lily Petersen said she attended a science camp last year.
"I really enjoyed that, learning about science and energy and stuff," she said. "I thought this would be a good opportunity to learn more."
Some, however, wanted to experience college life.
"I thought when I got this offer, I can finally see what it's like at college," said Nick Bond, a student from Steamboat Springs. "It sucks that it's the last day, though. I'm comfortable in my college bedroom. I feel like a college student."
In the camp's first year, Kerrigan and Bush said the greatest advantage was bringing students from all across Routt County together.
"The highlight of this camp is we have kids from the entire valley, Steamboat, Hayden and Soroco, which is good," Kerrigan said.
Bush added, "There's no division between Hayden, Steamboat and Soroco. It's just kids having fun. I'd like to get more of that going."
- To reach Jack Weinstein, call 871-4203
or e-mail jweinstein@steamboatpilot.com