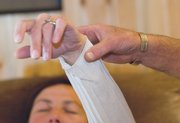 More information
The "Steamboat Bodyworks" guide will be available next month at www.steamboatbody.... It will be mailed to everyone in Routt County. Hypnotherapist Steve Jensen can be reached at 819-4249, and Elite Wellness can be reached at 879-7277.
Steamboat Springs — Several Steamboat Springs residents are creating a guide to holistic health businesses, compiling information about those who serve the mind, body and spirit.
"Steamboat Bodyworks" will be available next month, said Josh Nass, who owns Park Range Publications, which publishes HomeLink magazine. The 32-page booklet will include services such as massage, acupuncture and yoga. Steamboat is home to plenty of holistic-minded people, including hypnotherapist Steve Jensen and certified traditional naturopath Cammi Montieth.
Jensen started on the track toward hypnotherapy about seven years ago. He works out of a backyard cottage, pulling the curtains to guide clients who want to quit smoking, ditch insomnia or stop eating compulsively. Those are all symptoms of subconscious issues, Jensen said.
"In order to deal with coping mechanisms, we get to the root of the problem and address the cause," he said.
People spend most of their days in subconscious behavior - 80 percent, he estimated. They spend less, about 15 percent, consciously performing behaviors. Jensen tries to open a window to people's subconscious.
"It's really critical that somebody has an idea of what they're getting into," Jensen said.
He started his Steamboat practice six months ago.
He also helps people with regression, which involves re-experiencing situations that led them to certain feelings or behaviors. Jensen then aims to re-form those experiences to create a different result.
Often, people who need help are dealing with self-esteem issues, he said.
"What most of us deal with is forgiveness of ourselves," Jensen said. "Inevitably, I find most people have low self-esteem."
His wife, Gabrielle Savage, said hypnotherapy helped her overcome insomnia. Anxiety made it difficult for her to sleep. Savage's hypnotherapist almost gave her permission to sleep, she said. The therapy didn't eliminate stress in her life, she said.
"I can still have a ton on my mind and go to sleep at 10. : It's helped me tremendously," Savage said.
That's kind of the idea, Jensen said.
"Hypnotherapy doesn't cure anything," he said. "It simply helps people cope with their issues."
Montieth also helps people deal with problems and concerns. She runs Elite Wellness on Lincoln Avenue near Trafalgar Drive. Her practice includes nutritional counseling, reflexology and massage.
Montieth also uses a BioMeridian machine, which she said measures people's wellness so she can determine which supplements they need. The machine evaluates the body's electrical circuits to check for issues with allergies, hormones and digestion, for example.
"The great thing about it is that it's very specific for each person," Montieth said.
Mary Beth Norris said she has gone to Elite Wellness for about two years and that she's pleased with the outcome. Montieth has helped her stay on track and healthy, Norris said.
"She's great, very comfortable to be with, a very knowledgeable, very bright woman and really believes in what she's doing," she said.
Norris said she believed in the power of holistic health.
"I've had acupuncture and massage therapy," she said. "There's some great healers in our community."
Nass said he wanted the "Steamboat Bodyworks" guide to connect the community with holistic health businesses and practitioners to each other.
"It's going to be an easy spot to find everybody," he said.