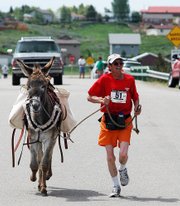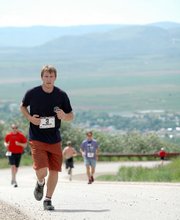 Results
Cog Run
Men
1. Nicholas Cady, 50:36
2. Jim Rebenack, 51:28
3. Harry Niedl, 54:38
Women
1. Tara Richardson, 59:36
2. Stephanie Scholl, 1:03:44
3. Jenna Beckerman, 1:07:49
10-kilometer run
Men
1. Chris Zirkle, 39:39
2. Dave Walling, 47:30
3. Darrell Bruder, 30:55
Women
1. Hannah Williams, 51:39
2. Abby Steinbrook, 54:20
3. Cara Marrs, 55:09
5-kilometer run
Men
1. Chris Cunbar, 22:33
2. Charlie Beurskens, 26:43
3. Carson Russell, 26:54
Women
1. Lisa Adams, 23:44
2. Sharon McKeown, 25:09
3. Ann Kirton, 29:42
Hayden — Thanks to a mischievous boy from Missouri and a tireless girl from Wiggins, a curious family from the Front Range and a bunch of fun-loving firefighters from Craig, a few die-hards from Routt County and a donkey from Slater, the Hayden Cog Run realized new levels of success Saturday.
The race's field, which had dwindled to just 33 runners a year ago, was bursting at the seams and attracted nearly three times that number. Nicholas Cady traveled with his family from Louisville to lead the hodgepodge collection of 92 competitors, winning the 8.6-mile Cog Run in 50 minutes, 36 seconds.
Tara Richardson captured the women's Cog. Chris Zirkle and Hannah Williams won their divisions of the 10-kilometer race, and Chris Cunbar and Lisa Adams won the 5k races.
"It was awesome," Cady said after winning the grueling Cog Run.
That race sent runners up Routt County Road 76, which gains about 1,000 feet of elevation in three miles. It then cast them hurtling back down toward the start and finish lines at Hayden City Park.
It ground even some of the most experienced runners to a slow trot or even a walk. Cady powered through.
"It was steep, but it was runnable, and it was a heck of a view up there," he said.
While Cady made the dash up the Cog Road and back down, his wife, Teri, 3-year-old daughter, Morgan, and 1-year-old son, Justin, fished in Hayden's annual Huck Finn Day, which took place on the other side of the park.
"We had driven through Hayden before but hadn't ever stopped here," Cady said. "We saw there are things for the kids to do, then saw there was a barbecue and decided to drive up."
Richardson, only a month graduated from Wiggins High School, won the women's Cog and she, too, simply stumbled into the spotlight. She opted into the steep and challenging race after traveling to Steamboat Springs to watch a cousin play in a Triple Crown softball tournament.
She said the incline was tough, but it wasn't enough to stop Richardson. A second-place finisher in the 3,200-meter run at last month's Class 2A state track meet, she flew across Saturday's course and finished in 59:36.
"We were just in the hotel looking through a magazine, saw this race and decided to come over," said Richardson, who will run cross country and track next year at Western State College. "That uphill was horrible, but coming down felt really good.
"Out where I'm from, it's totally flat, so I wasn't used to these hills."
Talaya Thomas, a former Division I college sprinter, also found the steep road a tough obstacle.
"I'm not a distance runner at all," she said, still catching her breath minutes after she had finished. "I figured why not? It was just an hour of my day, and it felt great when I was done. I'm a sprinter, so the downhill was great for me. It was worth running up - or trying to run up - so I could run down."
The bulk of the race, meanwhile, seemed to be made up of a rowdy collection of firefighters from Craig. The Craig Hotshots wildfire team and the city's fire department fielded large contingents.
"They called and preregistered, said if we have a fire, we won't be able to be there," race director Kathy Hockett said. "I said 'I will honor $20 (pre-race day registration fee) because they gave me all the names. If you show up, you can pay $20 day of.'
"When they brought in about 20 people, that was great."