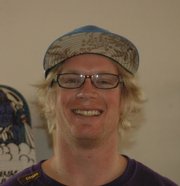 Trent Kolste
Age: 29
Occupation: Co-owner of Urbane clothing store; lawn maintenance for Gecko Landscaping; server at The Ore House
Place of birth: Omaha, Neb.
Q. When did you move to Routt County?
A. January 2003.
Q. What's the biggest risk you've taken recently?
A. Letting Brian Freedman run the cash register.
Q. Describe your morning routine.
A. Brew some tea, eat breakfast, go to work.
Q. What's the best piece of advice you've ever been given?
A. Treat others like you would like to be treated.
Q. What three things would you want people to know about you?
A. I'm from Nebraska, I like nachos, and I have been to 47 or so states working for a truck driver.
Q. What did you want to be when you grew up?
A. A banker.
Q. If you could invite any four people to dinner, who would they be and what would you talk about?
A. Peggy O'Donnell, Carol India, Trish Freedman and Diane Bennett. We would discuss the life of a truck driver and truck stops.
Q. Do you collect anything?
A. Shoes.
Q. In the Meatloaf song, "I'd do anything for love, but I won't do that," what is that?
A. Eat olives.
Q. What was your first job?
A. Caring for lodgepole pines at my grandfather's tree farm.
Q. Who is your favorite superhero? Why?
A. The cookie monster because he gets to eat copious amounts of cookies.
Q. If you could go back in time, to what event or time period would you go?
A. The 1970s, to see some Led Zeppelin shows.
Q. What is your favorite thing to do in Routt County?
A. Snowboard.
Favorites
Book: "Into the Wild," by Jon Krakauer
Song: "Going to California," by Led Zeppelin
Color: Blue
Food: Mexican
Sport to watch: The Nuggets play basketball
Vacation spot: The beach