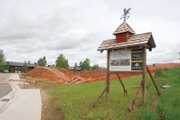 Steamboat Springs — Three months after winning city approvals for new condominiums at Rollingstone Village, Kim and Peter Kreissig have put the property off Pine Grove Road back on the market for $6.9 million. However, she says, it's nothing like a flip.
"I won't make any money off it at that price," Kim Kreissig said. "I've never been emotionally attached to a real estate project before, but this one really tugs at me."
Rollingstone Village would be built in a stand of trees along Fish Creek that is almost immediately behind the Safeway grocery store at U.S. Highway 40 and Pine Grove Road. Although the property is close to three large commercial centers between downtown and the ski mountain, it feels relatively secluded to visitors on foot.
The project as approved is planned for 61 condominiums and seven commercial spaces comprising more than 100,000 square feet. It also includes 33,000 square feet of open space.
The Kreissigs, who have successfully developed several condominium projects, as well as large homes, paid previous owner Jim Selbe $5.75 million for the property in 2007. They also have broken ground this spring on the first two buildings in a townhome project, Rocky Peak Village. Kim Kreissig is a Realtor with Prudential Steamboat Realty.
Peter's K&K Builders constructed the eight-unit Willowbrook and 16-unit Willows townhomes in the Chinook Lane neighborhood. Both sold out before completion between 2001 and 2004. The Kreissigs moved on to the Stonewood townhomes project in 2004.
Peter Kreissig said that given the state of the economy and the lag time before units at Rollingstone would be absorbed by the market, they no longer want to carry the debt. Instead, they hope to sell the entitled project to a developer who can afford to be patient.
"We have carried Rollingstone since 2007," Peter Kreissig said. "Given market conditions, we have no immediate plan to commence building. We can technically continue to carry the land, but with the market rebounding slowly, it just doesn't make good business sense for us to wait it out."
Along with the purchase of the land, the Kreissigs had invested heavily in the conceptual plans and the process of obtaining a development permit.
"We had every intention of building something wonderful for us and for the city of Steamboat Springs," Kim said. "We bought the parcel when the market was booming, and it was a big leap for us. The purchase itself, as well as our vision for the project, was larger than anything we'd ever undertaken."
In hindsight, Kim said, it might have been wise to leverage their risk by taking on an equity partner.
"The times were good, and we'd never teamed up with a partner before, so our thinking was, 'Why start now?'" she said.
The plan at Rollingstone would have preserved a historically significant home and detached garage.
Historical connection
Selbe's parents, Keith and Anne Selbe, moved to Steamboat Springs from Kansas in 1942. Keith's parents and grandparents had been ranchers in Kansas and preceded Keith, moving to Steamboat in the 1930s to escape the Dust Bowl.
Keith and Anne Selbe ran a dairy farm at Casey's Pond where Jim and his sister, Anita, grew up.
Keith Selbe was a familiar figure, clad in denim jacket and cowboy hat, in Steamboat until his death in August 1994. He was an avid horseman who trained sorrel quarter horses and drove around town in a Jeep CJ.