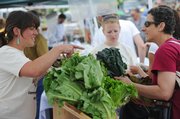 Adrian Egan is trying something new this year: awarding red, blue and orange tongues to eager youngsters at the Mainstreet Steamboat Springs Farmers Market.
Egan's Sno-cone stand is one of several first-time features at the Saturday market on Sixth Street. Like other vendors, Egan is testing the waters and aiming to make a couple of bucks. He hopes to at least make back his startup costs.
"It's a couple grand, but you've got to take chances," said Egan, who was laid off last winter.
He tried to find a job this spring, but "this seemed like it was easier," he said. Egan's brother, who sells log furniture at the Farmers Market, encouraged him to set up shop. Those summer days get hot, he reasoned, and people dig Sno-cones. Egan plans to power his machine using solar panels, but he was using a generator Saturday. When he adds the green energy, he's going to call it Solar Cone.
On Saturday, Egan's customers seemed more interested in the color of the cone than the color of the energy.
"Where do you get those?" asked a girl eating cherries from a plastic bag on the courthouse lawn.
"Clear at the other end," answered a man sitting by a green-tongued boy and a red-tongued girl, who were chowing down on cones.
The market is in its fifth year, and it started with more vendors than ever, Mainstreet Manager Tracy Barnett said. Thirty-six vendors ran booths at Saturday's bazaar. People meandered to and fro, peeking into tents and buying kebabs, cheese, bread, produce and clothing.
This year, downtown shops are participating, Barnett said. Some were displeased about the market last year, contending that it competed with their businesses. Dejà Vu Boutique sells Western wear at its booth, Steamboat Meat and Seafood has a booth, and the owners of the Homesteader plan to sell spices and other items at next weekend's market, Barnett said.
"Some merchants say, 'Why should I have two storefronts?'" she said. "And I say, 'Because you can send people to your store.'"
This year's Farmers Market is more appealing than ever, because, Barnett joked, it's got wine. Woody Creek Cellars is selling its all-natural, handmade wine. Daniel Lindsey is a friend of the owner, and he's running the booth.
The wine has no added sulfite, Lindsey said. That's a chemical that gives people hangovers, he said. Large wineries use it to kill yeast, Lindsey said. Some people are sensitive to sulfite.
"This is good for people who have food allergies - or who don't want to have hangovers," he said.
Woody Creek was offering chardonnay and a couple of cabernet sauvignons Saturday. The wines also are unfiltered, which Lindsey said improves the flavor. Woody Creek sells its wines at farmers markets across the state, and Lindsey said winery owner Kevin Doyle prefers it that way.
"He likes to sell his wine at farmers markets, and he knew this would be a good farmers market," Lindsey said.
Several booths away, Catherine Beattie peddled a different beverage that's a tougher sell: boba tea. The milky, cold beverage contains small balls of tapioca. Beattie described it as "yummy and fun."
The stay-at-home mother of two and her husband have lived in Steamboat for about a year. Her 9 a.m. to 2 p.m. stint at the market was the longest she'd been away from her two sons, who are 2 years old and four months old. A photo of the pair sat on her table.
Beattie loves boba tea, which she said isn't available in Steamboat. People who like it were thrilled to see her booth, she said. Others took some convincing.
"It's definitely hard to get people to try something new," Beattie said.
She plans to run her booth next weekend and again at the end of summer. The market is a great opportunity to sell her wares without risk, Beattie said.
"I don't have to have a storefront or a place to have a business to do this," she said. "I get a lot of people coming through here."