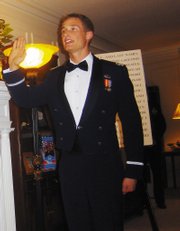 Steamboat native Simon Peter Christian Kassemi graduated from the United States Air Force Academy on May 27.
He was commissioned as a second lieutenant and will be stationed in Enid, Okla., for flight training.
He is the son of Rebecca and Mical Huyser and the nephew of Don and Trish Grueser, of Steamboat.
Christian Heritage School 4th-quarter honor roll
Christian Heritage School released its fourth-quarter honor roll this week. Seniors who were named to the High honor roll, a 3.5 to 4.0 grade-point average, include: Nicolai Buccino, John Cutter and Jared Finch. Junior: Hannah Zwak. Sophomores: Leah Berdine and Kirsten Williams. Freshman: Emily Heiner, Melodie Houston, Matthew Jones and Aime Lotz. Eighth grade: Aleigh Aurin. Seventh grade: Mackenzie Holmberg and Alexis Len. Sixth Grade: Lauren Anderson and Andrea Houston.
Sophomores who were named to the honor roll, 3.0 to 3.49 GPA, include: Ryan Hall and Alli Major. Freshmen: Victoria Belz, Daniel Melvin, Sara Pugh and Eric Spahr. Eighth grade: Nora Corser, Shealie Jenkins, Hannah Mihaich, Jack Pietig and Tyler Scott. Seventh grade: Stephanie Moos and Ana Maria Vazquez. Sixth grade: Andrea Clark, Paige Evans and Marieke Nunnikhoven.