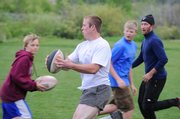 2009 Steamboat Rugby Club schedule
- 1 p.m. Saturday vs. Glenwood Springs
- June 20 at Vail
- June 27 vs. Aspen
- July 11 Cow Pie Classic in Steamboat
- July 25 at Aspen
- Aug. 1 to 2 Ski Town Rugby Tournament in Park City, Utah
- Aug. 8 vs. Vail
- Aug. 15 vs. Breckenridge
Steamboat Springs — Although some things have changed with the Steamboat summer rugby club, it's never hard to like the team's outlook.
Steamboat won two of the past three Mountain League championships and is the two-time defending champion in the Cow Pie Classic and Ski Town Rugby Tournaments. Steamboat opens the 2009 season at 1 p.m. Saturday at Whistler Field against Glenwood Springs.
"We'll definitely be one of the top teams," captain and coach Michael Hurley said. "But if anything, this could be the year for Breckenridge. They've got a lot of players returning and are building on last year."
Hurley said it's an interesting year for most of the teams in the Mountain League. Steamboat - along with Vail, Aspen, Breckenridge and Glenwood Springs - is having to find new players.
Whereas, in years past, most of the teams would have several foreign players or guys come back from college, that isn't the case this year.
With the economy down, Hurley said it's been hard to get any foreign players or college players into town because of a lack of jobs.
"It's a challenging thing," Hurley said. "Some things are still kind of up in the air."
Still, Steamboat will be led by a contingent of locals that has helped the team become one of the premier rugby clubs on the Western Slope.
Along with Hurley, the team returns local stalwarts Shane Dooley, Erik Wernig and Charlie Pappas.
Pappas has been competing in the Collegiate All-Star Championships, vying for an All-American spot.
Steamboat's other top rugby player - Chris Baumann - may make a few games but has been practicing with the U.S. National team - the Eagles - and could make an appearance this month during the Churchill Cup in Glendale.
"Chris will play with us this summer as long as he's not training with national teams," Hurley said. "In a perfect world, Chris never plays for us. He's off training for the Eagles."
Hurley said he encourages anyone interested in rugby to come out and train with the club at 6 p.m. Tuesdays and Thursdays at Whistler Field. He said if there is ever a time to get into the sport, it's now.
"It's a great club and a great bunch of guys," Hurley said. "Rugby is a great sport to play. You can play it anywhere in the world. Chris Baumann is proof that you can go through the playing ranks and, before you know it, you're a part of the national squad."