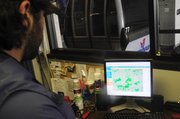 Steamboat Springs — Too much rain for you?
Take heart - June still is the driest month in Steamboat Springs. And with 20 days remaining, the city is not even halfway to its average of 1.53 inches of precipitation. But the city has seen an unusual spate of rainfall this month, and there's an explanation.
Local weather observer Art Judson reported that through 7 a.m. Wednesday, at his measuring station between downtown and Mount Werner, he has recorded .72 inches of rain this month. But he's also recorded precipitation during 15 of the past 18 days, stretching back into May.
Brian Lawrence, a meteorologist with the National Weather Service in Grand Junction, said Wednesday that thanks to one stubborn storm anchored near the Aleutian Islands off southwest Alaska and another squatting off the southwest coast of Greenland, the pattern is unlikely to change in the short term.
"We're in a pattern that is very, very slow-moving," Lawrence said. "There has been a trough in the western U.S. for at least the past few weeks, and it looks like it's going to hang around until next week, as well.
"It's actually quite amazing," Lawrence continued, referring to two stationary storms so far removed from Northwest Colorado dictating our weather.
The rainy period that western Colorado residents have endured is part of a global phenomenon.
Judson suggests the reason it feels so rainy is that for the driest month of the year, we've seen an unusual number of consecutive days with at least some rain, and the weather pattern extends back to the last week of May.
"This (month) we had precipitation recorded on the 1st through the 4th and on the 7th through the 10th, but all these days had less than .25 inches," Judson said. "Contributing to the perception that we have had a lot of rainy days recently is the fact that seven of the last eight days of May had rain, with the max day (recording) .66 of an inch."
Lawrence uses the analogy of two boulders in a river that are channeling the current to describe the effect the storms off Alaska and Greenland are having on Steamboat's weather. The boulder-like storms are dictating global weather patterns and are apt to continue doing so until a larger storm shoves them out of the way.
For now, Lawrence said, the deep storm off the Aleutians, in concert with the Greenland storm, is influencing an atmospheric flow at an altitude between 15,000 and 17,000 feet to bring periodic thundershowers to our part of the state.
So, how unusual is this? In June 2008, Judson's station saw five days of precipitation in a row, but there also were 11 consecutive days when nothing fell from the sky.
In June 2007, Steamboat experienced only two consecutive days of rain. It was a similar story in June 2006, when Steamboat saw three consecutive days of rain.
- To reach Tom Ross, call 871-4205 or e-mail tross@steamboatpilot.com