Audio clip
"Alone and Lost" by The Franz Family
Audio clip
"Unorthodoxology" by The Franz Family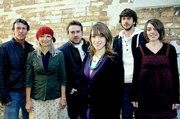 If you go
What: The Franz Family, gospel and bluegrass
When: 7 p.m. Friday
Where: South Routt Bible Church, 23115 Colorado Highway 131
Cost: Free
Call: 736-8422
Listen: Go to the family bluegrass band's MySpace page, www.myspace.com/thefranzfamily.
Steamboat Springs — The Franz Family gospel and bluegrass band has been in the works for decades.
Randy and Ruth Ann Franz grew up in Nebraska and started singing together in junior high school. Soon after the two got married, they went to a gospel music festival in Springdale, Ark., where there were several family bands on the bill. They'd always wanted to have their children sing in a band together when they started a family, so Randy and Ruth Ann made plans to have their future children take lessons on fiddle, mandolin, guitar and other instruments.
"We thought that would be cool, if we could do it with our own family," Randy Franz said. Approaching music as a universal bond, the band has traveled the country full time since 1997 and has been playing everything from church congregations to theme park crowds for the past 17 years.
Today, The Franz Family band is six members strong, with Randy on guitar, Ruth Ann on bass and their children on traditional instruments - Emmett plays dobro, Caleb adds guitar and banjo, Olivia plays fiddle, and Audra sits on mandolin and bass. Everyone in the family sings.
The group plays at 7 p.m. Friday at South Routt Bible Church on Colorado Highway 131 in Oak Creek. That performance ended up on the church event calendar when church pastor Tom Harves and his wife, Kim, heard about The Franz Family from friends who had seen them play in Grand Junction.
Traveling and living together, The Franz Family gets a chance to work out instrumental and vocal harmonies, Randy Franz said.
"The four-part harmony stuff, it's a close harmony, I think, when family groups sing together," he said. The close ties also allow the family to share musical tastes and new influences, broadening the band's sound past contemporary bluegrass and gospel music into folk, jazz, pop and blues.
"As they listen to different genres of music, they're able to incorporate that on stage, and it's a wide mixture," Franz said. The result is a sound that's bluesy in its dobro playing, traditional in its a cappella singing and contemporary in the way it puts all that together.
"Ours is a more progressive style. You have a traditional instrument, but it's played in a more contemporary way," Franz said.
- To reach Margaret Hair, call 871-4204 or e-mail mhair@steamboatpilot.com